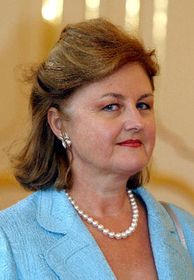 Edita Gruberova, photo: CTK Edita Gruberova, a famous opera diva born in Slovakia, the Queen of Coloratura, is considered to be the absolute vocal term of the world's opera. Critics and fans from all over the world call her the Queen of coloratura. She regularly performs in Milan La Scale, London Covent Garden, and the Metropolitan Opera in New York, as well as at opera scenes in Japan. One of the latest of her numerous successes was the critics' prize for best female opera singer of the 2002/3 season, for performance in Straus's "Ariadne auf Naxos" in the Liceu.
But this is a world far from what she could have imagined when she entered a rehearsal room of the Vienna State Opera accompanied by pianist Herta Magyarova at the age of 24.
"We went there. Back then, I was a timid girl with no experience and no knowledge of the German language. Some gentleman looked us over and asked Mrs. Magyarova what she was going to sing. She looked at me and told him: I don't sing, she's here to do it. He looked rather frustrated. Shall I tell you how frustrated was I? I mounted the stage, he went to the corner and started to look out of the window. He didn't say anything at all, so neither my pianist nor I were sure whether to start our piece or not."
After a while, Edita Gruberova started singing Mozart.
"So I started to sing the Queen of the Night aria, the first one in the Magic Flute opera. At that moment, the gentleman crossed the room and started to make a phone call. I thought he was calling the police to detain me. I didn't know that this gentleman was the director of the Vienna Opera. After a while, 4 more serious looking men came and asked me to sing more. I continued with the Queen of the Night and that was the moment my career started...."
".... Well, I have been engaged with professional singing for 35 years, not forgetting the 6 years of my university studies. In fact, one has to study throughout your life. It's a never-ending self-analysis of my voice, body, and vocal cords. I always concentrate on my technique. Every time I sing it provides new study material."
The vocal expression of Edita Gruberova is as perfect as her technique. It seems as if she is enjoying and playing with every single note she is singing. How did she feel after singing in front of Bratislava audiences?
"I felt great, although I am much more nervous in front of home audiences than anywhere else in the world".