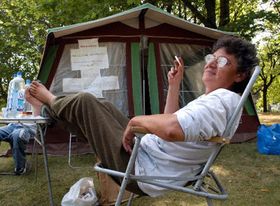 Zuzana Cingelova is on a hunger strike in front of the Government Office in Bratislava, photo: CTK The former US Steel worker from Kosice marched across the country last week and set up tent in a park in front of the Government Office in Bratislava. Fifty-one year-old Zuzana Cingelova started a hunger strike. Today is her tenth day. She and four of her friends are now camping in the park. They sit, talk, drink mineral water and smoke cigarettes. This is Zuzana Cingelova's second hunger strike. And what is the reason?
"During my first hunger strike many people from all around the country contacted me because they had agreed with me on the issues I protested against - the terrible conditions of pensioners and people with disabilities. But many people have pointed out even worse problems. And I wanted to march all the way here to find out."
And when she found out, she decided to talk to the government.
"And when I found out, I decided to form a memorandum which I have now presented to the government."
Among the demands is the increase of pensions to the level of 30 percent of the average salary of a member of parliament. Why 30 percent?
"Because I have the feeling that the stomach of a Slovak pensioner has shrunk to 30 percent of its original size. So the 30 percent of an MP's salary could keep them alive."
The average salary of an MP lies around 1,100 Euros, while an average pension totals a mere 155 Euros. Several days ago Mrs. Cingelova met with Deputy Prime Minister Pal Csaky. Some politicians also came to talk to her in her tent.
"Some politicians from the Communist Party were here and they said they support the thoughts and then there were representatives of three different labour parties."
Even though it may sound stupid, the question "what do you do all day" had to be put...
"I meditate and do a lot of thinking, and talk to people who come by. I try to explain my motives to those who don't understand why I decided to strike. But I have to say that the majority of people, who come, maybe some 80 percent, understand me."
Zuzana Cingelova has not stopped her hunger strike even after her 74-year old mother died last Thursday. According to her she could not even attend the funeral because her mother has told her she would have marched too if she were healthy. "I will light a candle for her", said Zuzana Cingelova. She has firmly decided to stay until she sees some problems being solved. After all, according to latest estimates the average pension in original EU member countries totals 750 Euros.