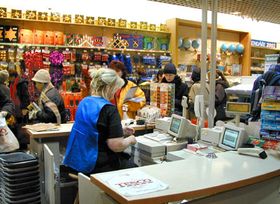 Emese Baumholz, Nike shop assistant, asking her Hungarian customer, if they need any help. You'd be easily mistaken for thinking this Nike shop is somewhere in Hungary. But, it's in Austria - at the Designer Outlet Parndorf in the province of Burgenland. Thousands of people like Emese's customer drive across to Austria every year for a spot of so-called shopping tourism. At the end of the day they head back to cities such as Bratislava, Budapest, Maribor or Zagreb - with bags full and purses empty.
One such customer is Hungarian Oscar Kornyei - queuing to pay for a trolley-full of goods.
"I come across the border to shop in Burgenland about once or twice a month. The situation in my country, Hungary, has got a lot better in the last few years. But it's got a lot more expenseive too, whereas in Austria the choice is still much better and cheaper. My kids go crazy about all the designer label clothes they can find here. And when we come across the border to shop we can make a real day-out of it."
A huge part of the attraction for those coming across the border to shop is getting the sales tax refunded. The company, which handles those tax refunds, is Global Refunds - and they say business is still booming with more than one million of these transactions in Austria last year. Thomas Bundschuh is the Managing Director of Global Refund Austria.
"Austria is cheaper. And this year we've experienced a very strong uprise in Hungarian shoppers which was because the retail prices in Hungary rose significantly. AT the moment it's cheaper for Hungarians to shop in Austria than to shop at home"
The proof of this is not hard to find - Walking the busy shopping malls here at Parndorf in Burgenland you're just as likely to hear Hungarian, Slovak or even Croatian spoken, as you are likely to hear Austrian. Susanne Solterer, is General Manger of Mac-Arthur Glenn, the operators of the Outlet center. She says almost a quarter of the shoppers are from Hungary and Slovakia.
"On the one hand you are in Vienna in about 30 minutes, if you go to the west on the otherhand we are very close to Hungary abd Slovakia. SDO I think it's a cross-border location. This is quite essential, and one of the main reasons why we are here."
Almost a third of the customers coming to the Nike outlet at Parndorf are also Hungarian or Slovak. Nike store manage, Christian Jaksch, says the shop & staff have adapted to suit their customer needs:
"There are a couple of promotions going on in our stores, sales period things like that. And then it's really good to have some employees who can help the customr abnd offer the best customer service. So we try ot learn from our customers and our employees such greetings to be friendly, to know how ot understand 'too small', 'too big', 'I need a bigger size' and things like that. Sometimes we can understand - or atleast try to!"
The advantage of VAT free shopping will admittedly disappear for shoppers from Austria's eastern neighbors once their countries join the EU in May next year. So will this mean an end to 'shopping tourism'? Managing Director of Global Refund Austria, Thomas Bundschuh, thinks not.
"the classical cross border shopping will certainly gradually go down because with the opening of the borders, the offers in their home countries will increase further. But I'm quite positive this will be replaced by the classical tourist shopper who wil then as part of the EU not be eligible for tax refunds, but as well will not have to pay import VAT when they go back to their home countries."
Austria - and in particular Burgenland - is the only region in the European Union, that borders on four countries of central Europe - Slovakia, Hungary, the Czech Republic and Slovenia. The closeness of these markets means big business for Austria - At the Designer Outlet Parndorf sales have risen by almost 30 percent in the last year
So it look like the tills at the Outlet, and Austria's shopper-tourism industry will continue to cash in on the benefits of eastwards expansion even after 2004. Tills /shop sounds