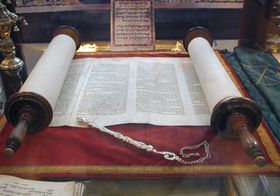 Young skinheads shouting: "Jews out! Poland for Poles!" in Kraków, just a few streets away from the historic Jewish district of Kazimierz. These skinheads may have never met a Jew, as most Polish Jews were wiped out during the Holocaust, and the rest were encouraged to leave Poland under communism.
65 thousand Jews lived in Kraków before World War Two. For several centuries, the district of Kazimierz, where the famous movie SCHINDLER'S LIST was shot, had been a cultural, economic and religious centre of Polish Jewry. Henryk Halkowski, a Jewish intellectual living Kraków says everything was destroyed during the Holocaust:
"The Germans made Kraków the capital of occupied Poland. The Nazi governor Hans Frank wanted to make Kraków a Jew-free city so he expelled around 50 thousand local Jews to neighbouring towns. The remaining 16 thousand were crammed into a ghetto in 1943. The Nazis gradually selected those able to work and put them in the labour camp in nearby P?aszów. The rest were sent to the death camps of Auschwitz and Belzec."
Jan Lieban, the custodian of one of Kraków's two surviving synagogues, was one of the lucky few to stay alive because he was placed on Oskar Schindler's list.
"Me and fifty other young Jews were saved by Oscar Schindler in 1944 when we were about to perish in the camp of Gross-Rosen. He pulled us out of a bread queue, took us to a Czech factory where we worked till the end of the war."
5 thousand Jewish people returned to Kraków after the war. Some emigrated later because of anti-Jewish witch-hunts under communism. Today the Krakow Jewish community officially only numbers 150 people. Yet, after decades of neglect under communism their ancestral Kazimierz district, once studded with architectural gems, is being rejuvenated, largely thanks to the Jewish Cultural Centre based the. Its head Robert Gondek says the centre's mission is to preserve Poland's Jewish heritage and to show Poles how to be more tolerant.
"We are here to remember Jewish history, Jewish inhabitants of Krakow. Now, they are gone but their heritage is still here and the only thing we can do for them is to remember them and to respect their heritage, especially that in a longer perspective this is also part of our Polish heritage."
Jewish food, Jewish art and Klezmer music have returned to Kazimierz. They embody Jewishness reborn - against all odds, in a place, which has not always made Jews feel welcome, as Robert Gondek explains.
"Anti-Semitism in Poland has something to do with our phobic feelings. Polish society in general has difficulty and problems with dealing with otherness. That's why there is much hatred against Jews, against the Orthodox, Ukrainians, against Germans. Anti-Semitism is part of the complex."
But there are those who say that the new face of the Kazimierz district, complete with numerous new Jewish restaurants, is geared more toward American tourists, attracted by the story behind Schindler's list, rather than a genuine expression of Jewish revival. This may not be enough to make Polish skinheads change their minds.