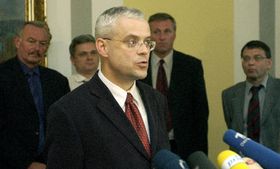 Vladimir Spidla, photo: CTK For Austria, the Czech's Prime minister's words of reconciliation towards the Sudeten Germans last weekend were big news - and went further than those of any previous Czech leader on the fate of the Germans who were expelled from Czech land after world war 2 under what are known as the Benes decrees.
Mr Spidla expressed regret for the expulsion - and for the first time ever also apologised to Sudeten Germans in Austria as well. Around 300,000 Sudenten Germans today live in Austria.
"Of course we can't turn back the clock. But it is important to know - and this was always what we sought - that these decree can no longer be applied"
Mr Spidla's words come just a few weeks after the Czech Republic's EU referendum in which a majority of Czechs said 'yes' to joining the bloc.
Following the vote, Austria said the country's accession to the union would open up new possibilities and help to resolve existing problems in bilateral relations.
And Chancellor Wolfgang Schüssel, says Mr Spidla's words signify a milestone in Czech-Austrian relations
" We express our regret that these events and acts occurred. And I renew assurances that today none of the legal norms from the post-war period can be made legally binding today."
Still, The Association of Sudeten German's in Austria has rejected Mr Spidla's latest remarks. And some are demanding the return of confiscated property as compensation for what they consider an act of ethnic cleansing.
But, Mr Spidla insists that those forced to abandon their homes have no legal grounds for restitution today. So his words won't satisfy all of those who were expelled for the Czech repu8blic after 1945.
But Historian Herbert Feichtelbauer, says Mr Spidla's statement is significant.
"A year ago before the Czech elections and the referendum there was a build up of emotions in both countries, which was very bad and everyone sought a way to get out of it. And I think this should be the end of a very sad and inhuman chapter in Czech-Austrian relations and we should both now as a member and future member of the European Union, look to the future and together contribute to a better future."
Relations between Austria and the Czech Republic have been decidedly frosty in recent years - not least because of the Benes Decrees. It seems becoming equal members of the European Union, may help the two countries to find common ground in the future, rather than quarrelling over the past.