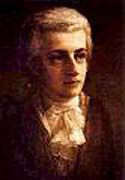 W. A. Mozart "I tell you, you are the greatest composer known to me."
The character of Antonio Salieri there in Milos Forman's seminal Amadeus, referring of course, to none other than Mozart. In 2006, the name of one of Austria's most famous sons will be repeated here again and again. 250 years after the great composer's birth, Czechs, like their Austrian neighbours, and many other Europeans, will have a unique opportunity to re-discover Mozart's work. The Austrian composer always had special place in Czech hearts. I asked Roman Belor, the director of the Prague Spring music festival and programme director of Mozart Prague 2006, to explain Mozart's 'Prague mystique':
"There's a list of things to be mentioned, but among them the most important thing was the fact that two of Mozart's operas premiered in Prague at the end of the 18th century, the most famous being Don Giovanni. The other, which many Praguers forget, was La Clemenza di Titto, premiered here a few months before Mozart's death. "
RP: A bit of controversy: you brought up the fact that you were asked by another journalist why Czechs were putting so much effort into celebrating an artist 'arguably' not their own. Yet, many Czechs do feel that Mozart has a special place in their history.
"Mozart was greeted very warmly in Prague and the tradition of his music in Prague is extremely strong: he was very successful here. When he died, there was a commemorative mass here in Prague that was not comparable to what took place in Salzburg or Vienna at that time. You can say that we can be proud of how Prague accepted Mozart compared to other places. The other way of looking at it is that Prague symbolises a larger Central European cultural space, of which Mozart is an integral part. We are happy to share the heritage of all these authors, like the Viennese 'share' the heritage of Smetana, Dvorak, Janacek, really Czech or Moravian authors."
In his short-lived but brilliant career Amadeus visited the Czech capital on three important occasions, and many sites connected to the composer will naturally figure strongly in the Mozart Prague 2006 calendar: the famous Betramka Villa, where his children played, as well as the Estates Theatre, where Don Giovanni was first performed.
The first concert in Prague is this week, and the list over the whole year is too long even to summarize: for that, visit the festival's website mozartprague2006.com. One last project is certainly worth mentioning: the upcoming premiere of Martin Suchanek's Adieu Mozart, a documentary film written by Zdenek Mahler based on Mozart's three visits, which, as far as I could tell from a short clip, bears a number of visual references or similarities to Forman's Amadeus. Mozart Prague 2006 director Jiri Hubac:

Amadeus "The [original] Amadeus was a film that had an enormous influence. Not everyone agrees on the believability of the story, but there's no question several generations were positively influenced to discover Mozart's music. The first few years afterwards all recordings of Mozart were sold out! Adieu Mozart, written by Zdenek Mahler, who also collaborated on the original Amadeus, bears some similarities, but essentially focuses on Mozart's time in Prague. So far, response has been good and we hope the film will be a fitting brother to Forman's film."
All info at www.mozartprague2006.com