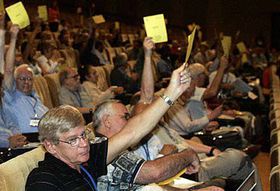 Members of the International Astronomical Union (IAU), vote on a resolution for planet definition during the IAU 26th General Assembly in Prague, photo: CTK "For the first time in millennia we have defined the word 'planet'," Richard Binzel of the Planet Definition Committee announced the news to the public on Thursday.
About 2,500 astronomers who have been meeting in the Czech capital for the past two weeks agreed on a definition of a planet on Thursday. The debate had been vigorous and at one point it looked as though the number of planets in our solar system might actually be expanded to twelve. Catherine Cesarsky is the incoming President of the International Astronomical Union (IAU).
"We were like at the top of a wall - one could fall one side or the other. One way was to declare that Pluto and objects similar to Pluto were also planets, but a distinct category of planets, and the other was to decide that Pluto and the objects of its kind were indeed a special kind of objects, close to planets, but they did not qualify directly as planets."
The approved definition describes a planet as a celestial body which orbits the Sun, is large enough to assume a nearly round shape and has cleared the neighbourhood around its orbit of other object - a condition that Pluto, discovered only in 1930, fails to meet.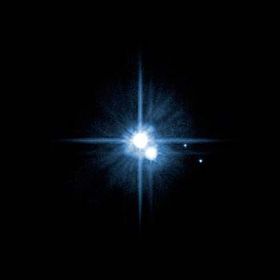 Pluto and its moons taken by the Hubble space telescop, photo: CTK Even though the debate was very much in the focus of attention of the public, according to outgoing IAU President Ron Ekers, it was not so important for the astronomers themselves. But he explains why the union approached it with so much care to even set up a special Planet Definition Committee.
"In the case of the planets, this extends very much into the public domain. As far as I am concerned, the concept of planets isn't owned by the IAU or the professional astronomers. This is owned by all people in all countries. So we took a somewhat unusual step of - in addition to the technical bodies who report to us - forming something called the Planet Definition Committee. We included writers, educators, historians because we wanted to get this broader input."
After the Prague congress, tens of thousands of textbooks and encyclopaedias in the whole world will now have to be rewritten. The International Astronomical Union has described its Prague General Assembly as a success. On behalf of the Czech organisers, the chair of the National Organising Committee Jan Palous says that Prague has made another mark in the history of astronomy.