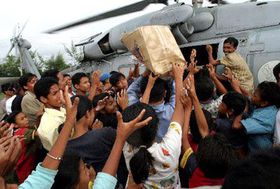 Indonesia, photo: CTK Poland, by far the largest of the Visegrad states, gave 760 thousand euros, while Hungary's government offered just under one million euros. The Czech Republic initially gave half a million, and then under public pressure increased this to seven million Euros - the largest from the region. Slovakia gave 174 thousand. Slovenia - a non Visegrad country - gave about 180 thousand. Appeals for private donations in Poland and the Czech Republic resulted in amounts initially exceeding those promised by their governments.
Poland was one of the first countries to get medical supplies into the stricken region - a plane carrying seven tons of medicines and equipment flew into Sri Lanka on December 29th - just 3 days after the tsunami struck.
At the end of the week Poland had one person confirmed dead and 13 still missing in the disaster zone. The Czech Republic also had one of its nationals confirmed dead and held grave fears for another 15 who are still missing. It appears that no-one from Slovakia, Hungary or Slovenia died in what has become the worlds worst natural disaster in more than a century.