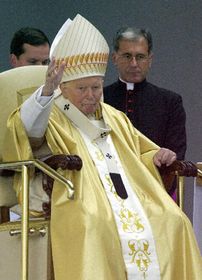 John Paul II, photo: CTK "In the near future your country will become a full member of the European Community. Dearly beloved, bring to the construction of Europe's new identity the contribution of your rich Christian tradition!"
So said John Paul II, in his speech at the beginning of his third visit to Slovakia. According to foreign press agencies, the Pope's visit is aimed at protecting this country against secularisation coming from the west. Silvia Jozefciakova, from the Institute for state-church relations, says secularization is a normal process also in candidate countries.
"I think these are speculations really because the Pope is coming to see the Catholics in Slovakia. If this country is mainly Christian with a solid Christian background, the Pope is willing to come here to speak to people."
Refusal of registered marriages for homosexuals, the demand for intensified Catholic education in schools, no separation of church and state as well as the recent coalition crisis over the abortion law amendment are the main issues discussed between liberals and conservative Christian Democrats on the Slovak political scene at the moment.
Several humanitarian NGOs feel offended by increasing pressure from Christian Democrats on society. The Pope's visit marks the beginning of their campaign entitled "No to church interference in Slovakia." Silvia Porubanova, an activist: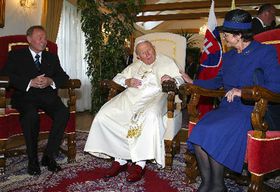 John Paul II, Robert and Irena Schuster, photo: CTK "Our main goal is starting a public discussion about the character of this country. Our constitution says that Slovakia is a secular, sovereign and democratic state. Many church representatives speak about Slovakia as a Catholic country. We disagree with this kind of statement. Our vested interest is to preserve its profanity also in reality."
According to Silvia Porubanova, the current Pope's visit expresses the effort to increase the pro-church mood for the general public in this society. Is this the reason why the Pope comes to Slovakia rather than another central European country?
"Slovakia, along with Poland, Hungary and the Czech Republic, will enter the Union in a few months time. The power of liberal, social democratic and conservative parties in the Union varies, but is kept in balance nowadays. The only way to change this balance is to take into consideration candidate countries. These states will have the right to vote and change the image of the future Europe. For some circles of Europoliticians, it is important that these countries support the conservative point of view."
Despite the scepticism of liberal organizations, the majority of Slovak population share the view of Michal Vasecka, a political analyst:
"The most important will be to bring the notion of tolerance and that's something what Slovakia in my view needs much more than strengthening the position of Roman Catholics in this country. Tolerance is not really typical for all segments of the society. If this is one of the positive impacts of the Pope's visit then I will evaluate his visit very positively."