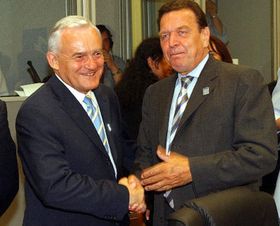 Leszek Mille and Gerhard Schroeder, photo: CTK September 1st marked the 64th anniversary of the German invasion of Poland, which turned into World War Two. This year the day came in the middle of a heated international debate on the creation of a centre commemorating the plight of Germans expelled from the countries of Central Europe that had found themselves under Nazi occupation. Visiting Westerplatte, a place which turned out to be the first target of the Nazi attack on September 1st 1939, Polish prime minister Leszek Miller reiterated that such a centre should not focus on the fate of one nation:
"The Centre must commemorate the memory of many nations, not just one, especially the German nation. We - Poles - cannot be made to feel responsible for the outbreak of World War Two. It is a well-known fact who the aggressor was as well as who fell victim of the war."
According to prominent historian Wojciech Roszkowski, it is necessary to remember that the expulsions were the consequence of the Germans starting the war:
"Nobody can deny that on the 1st September Nazi Germany invaded Poland in co-operation with the Soviet Union. Nobody can deny that Germans suffered, especially at the end of the war. But, the question is that history is reconstructed as if distorted by the idea of the creation of this centre, as if history started for the Germans in 1945. And no Pole can accept it. There is no doubt that Germans suffered but, they started the war and the issue must be treated respectively - starting not from 1945 but from 1939 at least."
Exact figures are difficult to establish, but just after WWII up to eight million Germans, residing within Poland's newly defined western borders, were forced to flee or were expelled by the Russian troops. Yet, as sociologist Halina Bortnowska points out, it was not the Poles who initiated the expulsions:
"This decision was taken at Yalta and further in Postsdam and we were not even consulted whether we wish it to be so or not. Pushing out the Germans meant eviction, meant a lot of suffering. Although the most awful facts concerning displacement of Germans from the present Polish territory are linked not exactly to what Poles did but to their own exodus - fleeing communism, fleeing the Soviet army, fleeing the future in the places where they lived. These things were the most awful."
The idea of a centre for Expellees was first presented by Erica Steinbach, leader of the Association of Expellees, in September 2000. Currently a heated debate continues regarding the nature of the planned centre. Opinions are voiced, endorsed by Poland, that it should have a universal European character presenting the plight of all expellees regardless of their nationality.