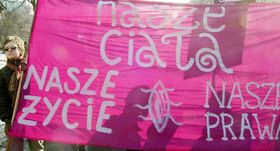 Photo: CTK At a time when the government's popularity rating has reached its lowest level in more than 2 years, most analysts here claim that the social democrats are playing up to their electorate. An influential Warsaw daily went as far as saying that after winning church backing for Poland's EU accession, the SLD has opted for an ideological war. The chairman of the party's parliamentary caucus Jrzy Jaskiernia denies such suggestions
"It's just typical behaviour in the parliamentary caucus and in the parliamentary group. It is not a secret that in the election programme of the SLD was also that initiative. But it is nothing because of the war, it is not a project against anybody. There is just some leftist thinking in that area. And some people can be even surprised that for a long time the SLD didn't make any gesture, even though the people who voted for SLD expected that."
According to statistics, no more than 140 abortions were performed in Poland last year. But Polish media report on a flourishing back street abortion industry and the pro choice Federation for women and family planning puts the number of illegal abortions at tens of thousands. Its chairperson Wanda Nowicka hopes politicians will at long last have enough determination to meet their election promises
"We think this is the last moment when this coalition could undertake this issue. According to Polish CBOS's recent poll 61% of the population does support the change of law. And I hope that politicians will take this into consideration and they will show enough political will to overcome all those difficulties they might face in the process of changing the law."
A day after the group of SLD deputies unveiled their plans, the primate of Poland's catholic church reiterated his opposition to liberalising the anti-abortion law, saying that terminations amounted to murder. According to krzysztof madel, a Jesuit father from Krakow, however, a renewed debate on abortion will be a good thing
"According to Catholic tradition any kind of abortion is seen also as a kind of crime, but also I would agree that dialogue or even debate, a very forceful debate, is always needed, because only this debate changes the mentality of the Polish society which was just unconscious of the problem of the abortion".
Several years ago Poland was the scene of street demonstrations of pro choice and pro-life activists. It's quite likely that the same scenario will repeat itself in coming months.