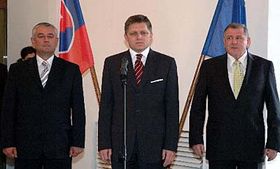 Jan Slota, Robert Fico and Vladimir Meciar, photo: CTK "Fundamentally we are against any kind of extremism therefore we have repeatedly warned Mr Fico not to cooperate with this party," said Martin Schulz the leader of the Socialist group in the European Parliament.
Fico went to Brussels to present his position but failed to persuade the socialists, who will take a final decision at their plenary session in October.
"I accept the fact that they have a different opinion but I care mainly about what's going on in Slovakia. My duty to this country is to put together a stable government, which will improve the living standard of all citizens of this country. We will respect the rights of minorities living in Slovakia," said Fico.
Meanwhile Jan Slota, the leader of the Slovak National Party, seems to be doing his best to prove that European Socialists are right to worry. During a TV programme Slota used bad language when talking about homosexuals and Slovakia's Hungarian minority. His party has three posts in the government including the Minister of Education, and Slota has already started threatening to shut down ethnic Hungarian schools. Analysts have warned that Fico will have a hard time trying to keep Slota under control, despite the fact that under the coalition agreement Slota himself cannot be in the government or in the leadership of the Parliament. The same is true for the leader of the third party in the new ruling coalition, Vladimir Meciar, a controversial former prime minister between 1994 and 1998. His return to political prominence has worried many Slovaks who still remember the economic and political isolation Slovakia went through at that time. But how much has Meciar changed?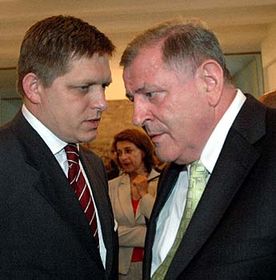 Robert Fico and Vladimir Meciar, photo: CTK "Of course I will fight for the rehabilitation of my former head of the secret service, Ivan Lexa, because he is not guilty," said Meciar, whose party has nominated as Minister of Justice a controversial former head of the Supreme Court, of whom opponents say that he protected corrupt judges and bullied journalists by suing them for libel.
As for the case of Ivan Lexa, one of the accusations levelled against him was that he had ordered the murder of a secret service agent who allegedly knew too much about the kidnapping of former Slovak president Michal Kovac's son in 1995.
In addition to protecting his former top spy, Meciar plans to change Slovakia's Constitution. Besides the Ministry of Justice, Meciar's party controls the Agriculture Ministry which manages several billion euro in European Union funds.
The new government is dominated by little known political figures, mostly from the world of business. They hold the key finance and economy ministries, prompting questions from analysts as to what is their experience at the macroeconomic level, and whether Fico's party lacks experts. Mr Fico himself is furious at the cold reception his one week old government has received in the business environment at home and abroad.
"Everybody began painting my coalition in dark colours even before we formed it. Give us time and judge us afterwards," concluded Robert Fico.
To get a clearer picture of the future of economic reforms in Slovakia, we will have to wait until August, when the government's economic manifesto is to be published.