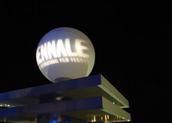 Someone flicks through radio stations as a car drives through a hilly, rural landscape ...It's the landscape of Carynthia, a southern province of Austria, and the setting for the short documentary presented by 22-year-old Andrina Mracnikar at this year's Viennale Film Festival. "Andri 1924 to 1944" tells a chapter in her family history, which is rooted in the Slovenian-speaking minority in Austria. It focuses on her great uncle Andri, who was executed for deserting the army and joining the partisans in World War II. Andrina wanted to find out more about him, but says this wasn't easy ...
"It was so hard because I realised that my grandma only knew him for about 20 years and now she's 70. SO her memories aren't the best anymore. And what I also found out is that when the English occupiers came after the war and they made cross examinations with the murderers, with the Gestapo and the Nazis about the question of who killed him, everyone said they didn't know because they just went out to get a coffee or they just went home to their houses just at the point when he was killed. SO what they actually say is that when he and the others were killed, no-one was there."
To illustrate the lack of information, Mracnikar juxtaposed her narration with suggestive images of the snowy landscape and abandoned barns.
"That's the landscape where Andre lived, where I have grown up. It's a Carinthian landscape and I went to all the places where he had been - to the farm where he had grown up and where he hid during the war. I guess it's a very touristy landscape with nice mountains and the snow and the blue sky. And to imagine that people only 50 years ago had died there and had been shot and killed there - yet today no one knows about it and there is nothing that is written about it."
Another film shown at the Viennale that approached history in a similar way was "Mother" by Swiss-Hungarian director Miklos Gimes. He is the son of the journalist Miklos Gimes, who was executed for his presumed role in the uprising of 1956. The director tries to examine this moment in Hungarian history through his mother Alice and how she deals with her past as a Jew who escaped deportation and became an active Communist. Gimes says the film was received with great interest in Hungary.
"The film aroused a big interest and I didn't understand why because I mean the 56 revolution in Hungary is a common knowledge and it's a state holiday. And still people told me that they are glad that finally somebody tells the story in an objective way. And they say this is because I, as a Swiss - which I am because I've been living in Switzerland since the age of 6 - I have an outside view. I can tell more or less the meaning of the Hungarian revolution without being involved in any political party quarrels."
A common theme of many documentaries at this year's Viennale was the subjective perception of history. Both "Andri" and "Mother" raise questions about the accuracy of both textbook history and subjective memory as they examine chapters in Central and Eastern European history in a very personal way.