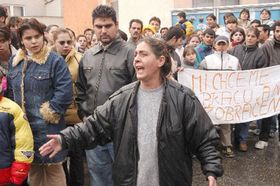 Roma protests in Slovakia, photo: CTK When hundreds of gypsies stormed a few food stores in eastern Slovakia to protest against the government's decision to lower their social benefits, many Slovaks - unused to street riots - were taken by surprise. But the new law on social benefits reduces by as much as half the social aid gypsies will get. A family of six people receives now only 120 euros per month. Gypsies say it is not enough and therefore they are forced to steal food from shops or neighbours. Ladislav Fizik is the president of the Roma Parliament, a non-government organisation fighting for human rights. He has been the main voice among Roma activists encouraging people to protest.
"We are unhappy with our social conditions and that's why we have taken to the streets. As any citizen of this country gypsies have the right to protest against the government but of course I ask Roma people to do it peacefully."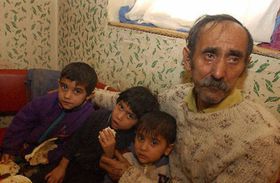 Slovak Roma, photo: CTK After clashes between Roma and the police on Monday and Tuesday, the President of the country publicly criticized the government for its policy. He's warned that it could lead to wider social unrest, and blamed the government for introducing "untimely and unfair cuts" to the benefits. The government has replied that the president is using the situation to promote his re-election campaign and will not stop the reform of welfare system. They say it's necessary to encourage people to find jobs rather than to stay home and wait for financial support from the state. Sociologist Martina Juraskova says that such a concept finds gypsies in a vulnerable position.
"They live in a vicious circle of poverty and dependence and they are not able to change their status by the means available to the rest of the population. And that's the reason why the motivation factors, which are involved in the new concepts do not work in the communities in this environment."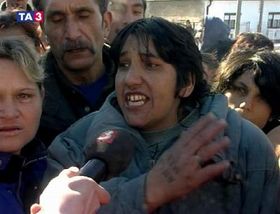 Roma protests in Slovakia, photo: CTK According to the latest surveys by the World Bank the unemployment rate is almost a hundred percent among the half million gypsies living in Slovakia. Ana Botosova is an expert with the Ministry of Labour and Social Affairs in Bratislava.
"Their chances of finding a job are reduced because they lack skills and live in areas with already very high unemployment rates. They think they are discriminated against even before they start looking for work and therefore they don't even try. I see a problem of mentality here."
The government promise to launch infrastructure projects for Roma communities and they will be able to earn some extra money by being employed by companies involved in these projects. It is hard to say whether the presence of the army on the streets of Eastern Slovakia or the government's promises have calmed the situation down.