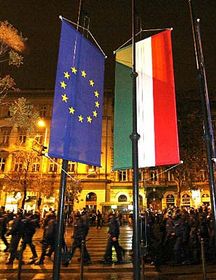 Photo: CTK Emese Danks is a spokeswoman for the Hungarian government:
"We put together a very nice and touching programme because we believe that this [the 1956 revolution] is one of the highlights of the 21st century. Historically, the revolution in 1956 is a very important part of Hungarian history. It showed the world how the Hungarians felt and gave it a lot after the revolution. Therefore it was important for the government to have a very well prepared celebration."
The series of events included a 1956 tram that travelled around the city, decorated with billboards about the events that took place fifty years ago. There were also open-air museums in three historical parts of the city with contemporary art on display. Commemorations were held at the tomb of Imre Nagy, the martyr prime minister of '56, and two monuments were also inaugurated in Budapest (and many more in other towns and cities). A memorial concert was held in the State Opera House, attended by representatives of all major political parties. But that was the only event of that sort as the parliamentary opposition refused to participate in the state celebrations organised by the government.
The main opposition party, Fidesz, held a street rally at one of the busiest intersections in Budapest where many of its supporters mingled with illegal demonstrators who where dispersed by the police. The illegal demonstrators vandalised streets, buildings, and even stole a contemporary T-34 tank placed at one of the open-air museums. They also booed and whistled during the minute of silence commemorating the heroes and victims of the revolution fifty years ago. Over one hundred people were injured in the late-night clashes with the police. Government spokeswoman Emese Danks commented on this dark side of the celebrations: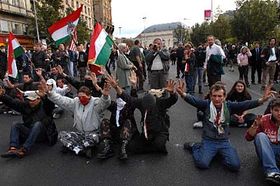 Photo: CTK "Well, I can only repeat what the prime minister said in his interviews last night. It is extremely sad that a minority stole the real celebration opportunity from the nation. They used the 1956 commemorations to destroy the city, be vulgar, and go through the town to frighten everybody away from the streets and from peaceful, quiet, and dignified celebrations."
What was the international reaction?
"All the guests who were here were absolutely delighted to be able to attend this event. The revolution really put Hungary into the limelight of the international media 50 years ago. They [the guests] were very touched by the programme, the opera, and the kind of freedom declaration that was signed by all delegations in parliament. It was a deja vu of the 1956 revolution because there was also a freedom declaration and all the represented guests signed this declaration."