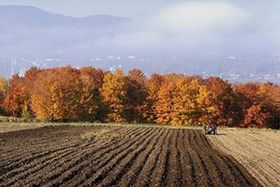 The deadline of EU direct payments is April this year. But state secretary of Agriculture in the former Orban government, Gyorgy Rasko says - he understands the protesting farmers.
"The farmers are really angry because the government, four or five months ago, promised to pay the direct payments in advance, which was wrong information, if you add that normally in Hungary, grain is sold in the autumn and partly in winter and this year, due to the EU intervention, the grain is still stored at the farmers' and they do not have the cash to pay the necessary bills and the interest rate is also still very high in Hungary."
In 2004 Hungarian farmers harvested an exceptionally large amount of cereals. Prior to Hungary's EU membership surplus amount of wheat used to be exported with government assistance. But now the government has to ask for community measures. Laszlo Vajda is from the Ministry of Agriculture:
"The best solution and real future would be the export to third countries. We have asked the Commission several times to introduce measures and there is currently an export tender that has been issued by the Commission for two million tonnes of wheat but unfortunately a landlocked country like Hungary has little chance to win this tender because traders and producers who are much closer to sea ports have lower costs and were therefore the winners of the first round of the tender. But Hungary continues to ask for a special tender for Hungary and its surrounding landlocked neighbours like Slovakia, Austria, or the Czech Republic."
The Minister of Agriculture Imre Nemeth says all the farmers received the arrears by the end of the week. Agricultural expert Gyorgy Raskó:
"Some 70-80% of farmers have already received the direct payment but they are only the smaller farmers. The co-operatives and other farms haven't got any money as direct payment and this results in huge liquidity problems."
The farmers say demonstrations will continue until March 13, though negotiations with the government began on Thursday.