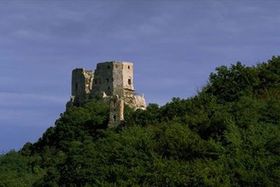 For most people, the name Transylvania conjures up images of dark castles and Count Dracula, but the reality is a far cry from bloodsucking vampires. Tran is a mountainous pastoral land that whisks you back hundreds of years. My friend Vera and I are staying in Torocko, a tiny Hungarian village perched between two mountains. The town's homes bear a distinctive octagonal style of architecture dating back to the 15th century. As we wander through the village, we see robust peasant woman scrub their laundry at a water basin in the centre of town.
We stroll down the main road to witness a gathering of animal traders, merchants and craftsmen who come four times a year to barter and by livestock, tools and pirated music cassettes. Their get together is a mish-mash of cultures. And it seems like a lot of folk just show up to have a look around or drink a beer.
We're surrounded by villagers wearing a variety of distinctive straw hats. As they greet old friends, their smiles reveal many gap-toothed grins. The smoky aroma of meech, or grilled meatballs, fills the air. Balkan melodies blast through the speakers of a cheap plastic stereo.
The atmosphere is friendly, but the competition stiff. Almost everyone has a pig, steer, or goat that they'd like to sell. The ground is slippery, covered in a gooey muck from all the mud and animal dung.
Two men wrestle a scared pig into their horse-drawn cart.
It's time for everyone to start packing up for the journey home. And as the sun begins to set, a herd of goats meander back to the home of their herdsman. Many people wind down the evening in the local pub.
Suns-scorched labourers sip Romanian beer and cheap wine at wooden benches and tables. While a few of them play pool, a group of mischievous boys battle a video game. They want to know what I'm doing with my recorder. I give them the microphone.
Later in the evening, we see a smiling middle-aged man in a leather jacket straggle into the bar. He's got some sort of official armband with red letters on the sleeve of his jacket. It's Istvan, the night watchman, who does more drinking at night than guarding the village. He says that a lot has changed since 1990, when revolution swept the oppressive communist regime from Romania.
Back then, he says, we couldn't even watch TV or do anything. Everything was forbidden: sex films and stuff like that. We were aloud to celebrate, but nowadays we can do whatever we want.
After sharing a few 'palinka' or homemade brandies with us, Istvan sets off into the dark chilly evening. And not long after, we also stumble home unaccustomed to the strength of the local brew. Since Vera and I are leaving tomorrow, we probably won't see many of these people ever again.
Warmed by the brandy, we realize how we'll miss the character of this tiny Hungarian enclave at the foot of the winding mountain road in the fairytale land of Transylvania.