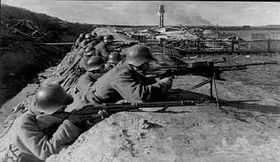 "The end of WWII does not hold a special place in public memory in Hungary. This ambivalent Hungarian attitude towards the end of the war is rooted in Hungary's special status during the war. The Soviet Union treated Hungary not as a liberated but as a defeated ex-enemy country. Everywhere in Hungary, after the arrival, the Soviet troops immediately began to exploit the human and material resources of the country.
"After the occupation of larger cities, special Soviet units collected art treasures, western currencies and jewellery. Dozens of factories were dismantled and shipped to the Soviet Union. The mass abuse of civilians, women in particular, generated anti-Soviet feelings. In the eyes of many Hungarians these atrocities justified the anti-Soviet propaganda that was circulated by the Hungarian press during the war. In Hungarian minds, the memory of WWII cannot be separated from the memory of events, which came after the end of hostilities."
What was life like for ordinary Hungarians during the last months of the war?
"During the last months of the war afraid of the Soviet soldiers and the Soviet army and that left to a tremendous mass migration. To my best knowledge, about half a million Hungarian civilians left the country and moved to Austria and Germany. Life was extremely difficult because of the lack of food and about one third of the houses in Budapest were ruined due to the military operation."