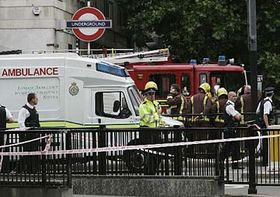 Photo: CTK Four days after the first of the recent terrorist attacks in London, one of the polling agencies in Slovakia published a survey in which 52 percent of respondents were convinced that terrorists would never attack Slovakia. The Minister of Interior, Vladimir Palko expressed a similar opinion.
"Neither our ministry nor the intelligence service has any information that our country is targeted by terrorists. Therefore we see no need to increase the level of security, except for the area around the British Embassy in Bratislava."
Jan Repa, the Head of Civil Protection, is a bit worried that Slovaks feel so secure.
"I have to say that people lost interest in civil protection procedures. Even though we got rid of the ideological aspect we had before 1989 there is still a great deal of risk in daily life in a big city."
Until 1989 Slovaks took part to civil protection exercises, built bunkers and were afraid that Western countries might attack them. Now, interestingly enough, 40 percent of Slovaks believe that their country is safe because terrorist attacks are caused by the aggressive policies of some of the same Western countries and happen elsewhere.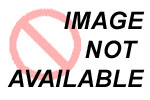 Bratislava Bratislava has a half million inhabitants but the shelters of the Civil Protection can accommodate roughly 60,000 people. Civil Protection representatives admit that it would take a week to distribute gas masks to all Slovaks. Not much of a help in case of a chemical attack it seems. Slovakia has only recently introduced the European emergency number 112, and not before receiving some warnings from the European Commission.
Police, ambulances and fire brigades have now a common emergency number. But their biggest problem is that they are under funded and understaffed. Alena Bucekova is the spokesperson of the fire service in Slovakia.
"We are trying our best to update our training and equipment but unfortunately we still lack behind because we don't have enough money to buy the latest and most efficient equipment. That's true especially when it comes to equipment for reaching to the top floors of high buildings.
"Each of these items of equipment costs some million crowns and we simply don't have such funds. So the modernization of the fire brigade goes quite slowly."
As for the ambulance service, this sector is caught in the turmoil of the general reform of the healthcare sector. Ambulances failing to arrive in time when called for an emergency are normal news in Slovakia. According to sources closed to the Slovak Chambers of Doctors, the ambulances lack qualified personal because experienced doctors leave for the Czech Republic and Britain searching for better salaries and working environment.
Currently most hospitals in Slovakia are in debt and their equipment is obsolete owing to very low or zero capital investment. There are fears that in case of big numbers of casualties, medical facilities may be easily overwhelmed.