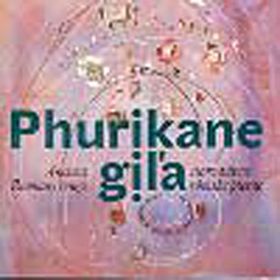 I would like to ask you where you learned to sing so beautifully.
Martinka: "My brother Ferko taught me when I was 3."
Ferko: "Well, I'm a person with a good memory. Everything I hear, I fix it in my mind."
May I say that because of your visual handicap you can hear and listen to the music much better?
Ferko: "It's like that when you are focused on your ear you can be more sensitive to music. When you only play instrument, the song does not get into your ear so much. Then it doesn't sound great. "
Martinka and Ferko Dudo were born disabled. Despite the fact that Ferko is several years older, his sister suffers from the same disease. Although the audiences at the concert in the circus tent might have been a little bit surprised, the attitude of Roma people to their disabled fellows seems to be different.
Jana Belisova is the initiator of the Phurikane Gila project. She spent 3 months traveling around Roma settlements in the East of Slovakia collecting old Roma songs. According to her, disabled people are not a taboo in the Roma community.
They treat disabled people in a privileged way. When we came to pick up Martinka and Ferko for this concert there were many children around. Ferko wasn't at home because other children had taken him for a walk. The rest of them were around Martinka touching, caressing and kissing her. They simply love disabled people.
Thanks to Jana Belisova, the Dudo siblings as well as other Roma singers have become the Buena Vista Social Club for the world music lovers in Slovakia. Their art attracts the organizers of the biggest music festival and also its audiences. Martinka and Ferko Dudo have their own band in the village of Sol where they come from. Unlike the old music depicting everyday hard life of Roma people, their own songs talk about love and God. The performance at the Bazant Pohoda festival was their first common performance at a big music event. What do they think about pop-music?
Ferko: "It is possible to sense who has the beauty of music in his heart, who is singing from the bottom of their heart and who only takes microphone and starts yelling."
Ferko admits that the pop singers can sing but sees the music too dependent on technical facilities. But, as he says, when he comes on stage and starts singing with all his heart so the people can really hear the music, it really is amazing. And it indeed is.