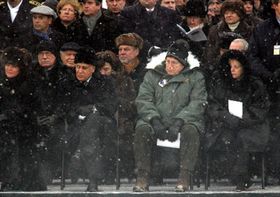 Photo: CTK Poland's President Alexander Kwasniewski:
"We are now gathered in a place where no words can express the terrifying truth about the horrors committed here. But we must speak, remember, and cry out that this was hell on earth. Here, humiliation, fear, pain, suffering, and death were every day."
But as the world leaders converged at Auschwitz Birkenau and echoed the universal message that the Holocaust should never happen again, Anna, a Polish Jew from Lvov relived her horrific experience at the Nazi death camp:
"Well, the gossip of the day was whether the commandant Mr. Hess was in the camp and what mood was he in, and if Mengele arrived then that was gossip. Because if Mengele arrived we knew that one barrack was going to be inspected and that people were going to die. Mengele used to come every week. You had to strip! He was in the middle and we were going around him with our clothes under our right arm. Now, if he didn't like you or like your face or you had a pimple on your body, or you were too skinny, or you were too pale - you went left, you were useless."
Now in her late seventies, this mild mannered, elegant mother of two was only 15 years old when her train finally rolled into the Nazi concentration camp. Little did she realize that she was entering the largest graveyard of European Jewry. The stench of burning flesh and the site of bulldozers plowing thousands of charred bodies into deep pits buried well below the camp were commonplace.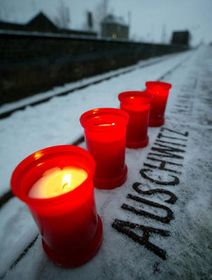 Photo: CTK "We heard and we smelt screaming and the crying and the shooting and then the fire from the ovens, the smoke. I do not blame the Polish people for that. That was just a very, very convenient place for Hitler to build our camp. They had camps all over the place so can I blame Poles for Auschwitz if they died also."
Anna was enslaved for 12 months at the Nazi death camp before Soviet forces came to 'liberate' her and her fellow captives. The Red Army liberated just 7650 survivors at Auschwitz - Birkenau.
"I was born in Lvov. I was from the east of Poland and we had a very, very bad experience with the Russians. They came in 1939 and they stayed until 1941. And my father had three strokes on account of them. I felt very disappointed. We thought the Americans would walk in or the Brits, but it was the Russians and I said - oh no, not again.
"The tanks were coming and the soldiers were throwing food - bread, sausages, cigarettes, and the people were hungry. They were starved and they ate that and they got terribly sick and they died right after the war, because if you starve for four years you just don't eat sausages and black bread you have to be on a light diet. But with the Russians everybody was sick and most of the people died."
So, it was like an anti-climax for you?
"But of course, the Russians arrived and everything went back like it used to be before when they occupied Poland."
Over 1.1 million people perished at the hands of the Nazi killing machine.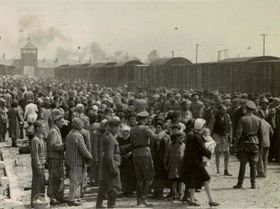 Photo: CTK Historians however argue that the Holocaust was a tragedy for all Mankind. Before 1990, communist authorities purposely altered the truth behind the Holocaust. A communist lie was propagated for 40 years, which maintained Auschwitz as a place of martyrdom of Poles and other European nations as much as Jews. Their findings were based on citizenship rather than religion or ethnic back round, which diluted the scale of the Jewish genocide.
The number of killings was exaggerated to 4 million. Communist authorities insisted on giving Auschwitz a multi-national character reflecting the socialist values of the time. The fact that mostly Jews were killed there was hushed up. But observers argue that the 60th anniversary of the liberation of Auschwitz was an attempt to correct past wrongs. More importantly, its purpose was to never let dreadful murderous deeds like the Holocaust from happening again.