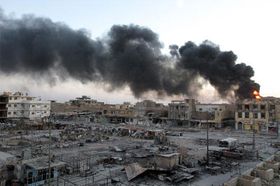 Iraq, photo: CTK The latest deaths brought the total number of Polish fatalities to fourteen, inevitably adding to a growth of criticism in Poland over the country's military involvement in Iraq. The Polish defence minister thought that the atmosphere in Camp Babylon itself, among Polish troops, was so tense that his presence there was vitally important. He made an unscheduled visit to the camp to boost soldiers' morale and attend a religious ceremony for the dead soldiers. Minister Szmajdzinski reiterated Poland's commitment to get out of Iraq as soon as possible but stressed that we want to create solid security structures there. According to foreign policy expert Robert Kostro, Poland has to be a credible member of the anti-terror coalition.
"I think that this is not a question of Polish interest because today maybe the Polish interest would be to withdraw the troops from Iraq, but the problem of certain responsibility. If we support that US action and because we sent our troops to Iraq, we have certain responsibility to maintain the peace there. So, we cannot withdraw the troops unless the Iraqi government wants us to do that. The discussion that started the Polish government about withdrawing partially troops from Iraq, or totally, its not the right time and right moment to do that publicly."
Poland is among the strongest allies of the United States in Iraq. In the view of Preston Smith, editor of Poland Monthly published in Warsaw, given the political circumstances, a pull-out of Polish troops is out of the question.
"Personally, I'm glad that the Poles are there. I think pulling out are drastically reducing the presence in Poland. I'm not convinced that that would reduce, for example, the risk of a terrorist attack in Poland right now, unless it was just a complete pull out, which is what the Spanish did and what the Philippine government did, which I don't think is something that's going to happen. Politically I don't think it will happen just because the relationship with the United States."
Over 80 percent of Poles are now opposed to the country's presence in Iraq. Professor Janusz Danecki of Warsaw University's Arabic Studies department thinks that the Polish contingent should get more involved in the training of Iraqi forces and police.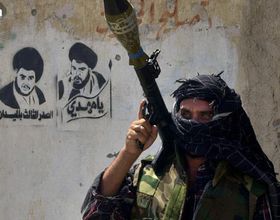 Iraq, photo: CTK "Well, I would like to see that our forces withdraw from Iraq. I mean the military presence is maximally diminished there and instead of a military force there would be other organizations which will be working with Iraqis, helping the Iraqis. And, of course, the military can train, for example, the Iraqi forces, or the Iraqi police, and so on, and so on."
As the Polish Parliament reconvenes shortly after its summer recess, the presence of Polish troops will surely again hit the political agenda. The opposition Peasants Party has said it will start a nationwide campaign of collecting signatures under a petition to bring the soldiers home.