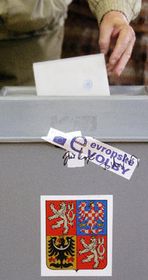 Photo: CTK Rob Cameron has been testing the mood on the streets of Prague, and he began by asking people whether they'd voted.
Woman 1: "Well, I didn't really care."
RP: So you were not very interested in the elections?
Woman 1: "No."
Do you think it's important that Czechs take part in these European Parliament elections?
Woman 2: "Yes, it's the only way to go there, so we should."
RP: So why didn't you?
Woman 2: "Well, maybe life situation or whatever."
RP: Do you know anything about the planned European Constitution?
Woman 2: "Not really, to be honest."
RP: Have you voted in the European Parliament elections this weekend?
Man: "Unfortunately, we haven't."
RP: Are you interested in these elections at all?
Man: "I think in the future when a new generation of politicians are available, we will be."
RP: How much do you know about the planned European Constitution?
Man: "We are not interested just now. We would be but we are not involved in the information."
RP: If the Czech government decides to hold a referendum on the constitution, would you vote in that?
Man: "We would."
RP: And on what basis would you vote? What would affect you voting 'yes' or 'no' for this constitution? What kind of constitution would you like to see?
Man: "You are asking me more and more complicated questions. We are in the initial stage of our European Union membership, so please, ask me next year, maybe."
So signs there that people in this country don't know too much about the planned draft. Travelling to Brussels this week is Foreign Minister Cyril Svoboda. Rob asked him whether the government wasn't taking a huge risk by putting the constitution to an apathetic and even euro-sceptic public.
"I believe it's obvious to everybody that we will have to solve the problem though a referendum and I believe that we will succeed. It is not just a risky job, this is a normal democratic procedure."
RP: But isn't it risky to have a referendum at all seeing as there is no interest in Europe among the Czech people?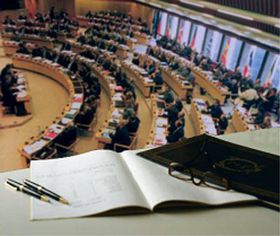 Photo: European Commission "It seems to me that the European Parliament is a completely different case. The European Parliament is for many voters somewhere too far from Prague, somewhere in Strasbourg, in Brussels, Luxembourg - so maybe this is the reason. Reason number two is that we have got almost no experience with the EU, with EU memberships, so still this is the reason why the European Parliament is a still strange entity for many many voters in the Czech Republic, but the Constitutional Treaty is a completely different case, so it will be like the referendum on our membership in the EU. It will be completely different."
RP: It is quite difficult as we've seen to explain these complicated issues around the Constitution, even to journalists. How are you going to explain it normal people?
"I fully understand that it is very difficult to explain the very complicated legal text to people in the streets. It is normal - nobody reads the laws in the Czech Republic but they understand the normal, simple question: 'Yes?' - 'No?' 'Are you in favour?' 'Are you against?' So we will need to simplify the question."