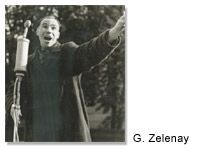 Gabo Zelenay, photo: www.slovakradio.sk Gabo Zelenay was a famous sports commentator mostly because his presentation of sports events on the ground, in the water or in the air was close to a piece of art. The sports enthusiast was a renowned master of improvisation in the whole of the former Czechoslovakia. Gabo Zelenay started his career in 1946. The legendary radio commentator died three years ago, at the age of 81, after a serious illness.
Gabo Zelenay decided to become a radio commentator for one very practical reason. He didn't have any money to study at university and afford a place at a dormitory. His mother, a widow, had to support four children. Gabo wanted to study and also get married...
"...and because love doesn't pay the bills, I went for an interview to become a sports commentator for Slovak Radio. After 12 tasks, I was found to be the best out of the 35 participants. That was the end of my marriage plans. The only devotion left was my true and deep love for the microphone, radio and my kind listeners."
...Gabo Zelenay explained in an interview marking his 60th birthday. Several live broadcasts made this commentator famous throughout Czechoslovakia. One of them was the historical success of the Slovan Bratislava football team against FC Barcelona in the 1969 final of the Cup Winners' Cup in Basil, Switzerland:
"The stadium clock shows the 48th minute of the 2nd half of the match and it is still not the end of the game. Altogether we have been playing 97 minutes. Why, mister referee? The extra time is 1-2 minutes maximum but not 4! Oh, he really is prolonging our torture! When is it going to end? Not until they equalise? A corner! A corner in the 98th minute! What watch does referee Raven wear? A pass and a shot at our goal! A great save Vencel! That was a chance!
"But although they shot, the referee finally ended the game with the whistle. Referee Raven ends the match between Slovan Bratislava and FC Barcelona. We have won dear friends back home! We have won 3:2. The cup, the beautiful, great and famous cup is ours. Bravo, lads! Bravo, our falcons from the Tehelne football field!"