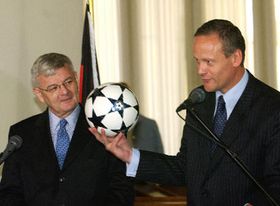 Joschka Fischer and Cyril Svoboda, photo: CTK It was all smiles at Cernin Palace, headquarters of the Czech Foreign Ministry, as Foreign Minister Cyril Svoboda presented his German counterpart with two rather personal gifts. Joschka Fischer was given an ice hockey shirt of the Czech national team - but bearing both the Czech and German flags - and also a football - a football made in Germany, as Mr Svoboda pointed out.
But while Czech-German relations are undoubtedly enjoying a high point, there are a few clouds on the horizon. The Czech Republic - which joins the EU in May 2004 - is one of several small countries hoping to fiddle with the terms of the so-called "EU Constitution", the compromise put forward by the Convention on the Future of Europe that sets out how a new enlarged EU should be run. Joschka Fischer said he welcomed any suggestions on how to improve the draft Constitution, but only within reason.
"I am in favour of any improvement. There is only one condition. If you open the package, you have to close it again. If this consensus is reached, I think any improvement is possible."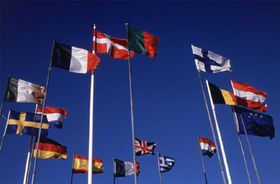 Photo: European Commission And Mr Fischer likened the document drawn up by the Convention to the US Constitution - itself a compromise between big states and small ones.
"This is a very balanced compromise, especially between the bigger and smaller member states. It's reminiscent of the Constitution of the United States - you very well this was the main problem, finding a compromise between bigger and smaller states. I understand fully the interests of the smaller member states, but at the moment within an enlarged Union we will have a very strong majority of smaller member states on the level of states. We accepted the principle of equality."
The final version of the Constitution will be agreed at the Inter-Governmental Conference or IGC, which begins in October. Cyril Svoboda said he believed there was - in some areas at least - some room for negotiation. Germany and the other big countries are expected to offer small countries like the Czech Republic a few compromises at the IGC, but most believe the big boys will stick to their guns. And as Joschka Fischer reiterated in Prague - the present EU members want a deal by next March at the latest.