The acting director of the Foundation, Willy Buschak, presented the results for Slovenia at a seminar, which was held in Ljubljana this week.
The survey examined a range of issues, such as employment, education, housing, family life, health and life satisfaction. The results draw on Eurobarometer surveys and 26.000 people in the 28 participating countries were asked, this means an average of 1000 people per country. The economic and social divide between the 10 new EU member states and the former EU 15 is not clear-cut. Nevertheless, the material differences between old, new and potential Member States are greater than in previous EU enlargements. But as Willy Buschak pointed out at a press conference in Ljubljana Slovenia is a quite positive example:
"The overall figure for Slovenia, comparing Slovenia in a European context is quite positive and quite a nice story over large parts. We have asked people for example what is your medium income your family income per month and the figure for Slovenia is 757 Euros, which is far ahead of all the other new member states. In many aspects our survey says Slovenia compares with countries like France and like Belgium."
However the standards of quality of life in Slovenia are far from ideal and there is still a number of people who are deprived of annual holidays for example:
"And again Slovenia compares very well with France, Belgium and the old member states- the figure of Slovenians who cannot afford a week's annual holiday is 24% but that is within a European context absolutely normal and absolutely average."
But what is even more frustrating for 8 % of Slovenians is that they have difficulties in making ends meet, which means that they are occasionally or often unable to pay their bills. The older generation over the age of 65 complains that in comparison to the younger generations their quality of life is less good. And where do Slovenians see the greatest conflict in society?
"Speaking of potential conflicts within society the biggest potential source of conflict for Slovenians in a European context is the conflict between management of labour."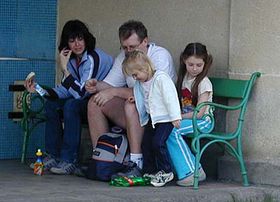 Maybe somehow surprising is the fact that in general Slovenians seem to be more optimistic about the future than the inhabitants of other European countries:
"They are however much more optimistic than all the other Europeans, I think 75% of the Slovenes have said we are looking quite optimistic into the future."
If a small number of 1,000 people per country are participating in such a survey then the result can only be a general profile of a country's inhabitants. Such a survey does not allow deeper insight into certain groups, such as single parent families or immigrants or certain aspects of life. The best feature of this survey is certainly that it gives objective and subjective information on the major viewpoints on the quality of life.