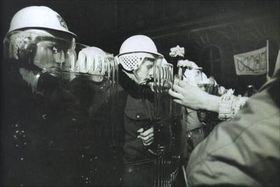 November 17th, 1989 November 17th, 1989. Thousands of students chant slogans on Prague's Narodni street, after an officially-sanctioned gathering to remember a student killed by the Nazis in 1939 becomes a wider protest against the Communist regime. After a tense standoff with riot police, the authorities made the fateful decision to break up the peaceful protest with force.
Within days the demonstrations had swelled to hundreds of thousands of people, within weeks the regime had collapsed. The exact course of events is still shrouded in mystery; some historians say Czechs will never know the truth.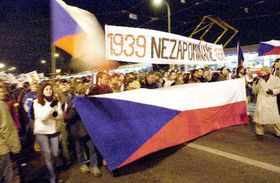 November 17th, 2004 But for many people the anniversary was an important reminder that the Communist Party still exerts considerable influence in Czech politics. The party, now in opposition, is the third biggest in parliament. Critics say it's never been held properly accountable for the excesses of the past.
At 4pm on Wednesday a large crowd of students gathered to retrace the steps of the original student march. The students said they were protesting against the continuing influence of the Communist Party, now in opposition, but still the third largest force in parliament:
"Young people today are very passive, they don't care about the current situation in the Czech Republic. They live their own everyday lives. I think people forget what they were fighting for fifteen years ago. And I don't think it was for the Communists to be in leading places."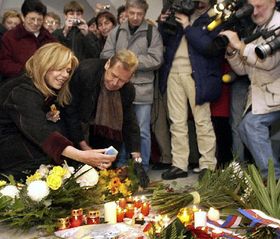 Vaclav Havel and his wife laid flowers, photo: CTK Meanwhile, the man who led the Velvet Revolution, Vaclav Havel, was mobbed by supporters as he stopped to lay flowers at the spot where riot police broke up the peaceful protest in November 1989.
Mr Havel has retreated from the media spotlight since stepping down as president last year, but he was very much the star of the proceedings. The crowd chanted "long live Havel", and pushed forward to shake his hand. Later Mr Havel joined right-wing deputies in walking out of parliament, as the leader of the Communist Party, Miroslav Grebenicek, made his anniversary speech. It was a fitting end to what many Czechs still regard as a highly symbolic day.