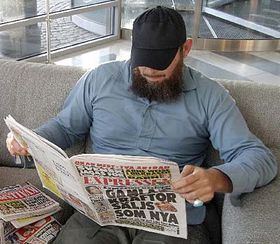 Oussamma Kassir, photo: CTK News of the arrest was flashed across pubs and living rooms as TV stations reported that a 39-year-old terror suspect had been detained by Czech police at Prague Airport on Sunday. Oussamma Kassir was on a Czech Airlines flight from Stockholm to Beirut, where he hoped to visit his sick mother. The plane had a brief stopover in Prague, and as soon as he stepped onto Czech soil he was seized by members of an elite police unit. He's now in custody as the Czech authorities consider an extradition request from the United States. Petr Dimun is the spokesman for the Czech Justice Ministry:
"When someone is placed in extradition custody, the country that has issued the international arrest warrant has 40 days in which to file an extradition request. The request is examined by the appropriate court, and if the court decides the person should be extradited, the final decision rests with the Minster of Justice."
The FBI want to question Mr Kassir about what they say was an attempt to set up an al-Qaeda terror camp in the U.S. state of Oregon in 2002. The Oregonian newspaper wrote that he arrived in the village of Bly carrying money, poisons and computer disks with instructions on how to make bombs. The British secret services, meanwhile, claim he's closely associated with Haroon Rashid Aswat, accused of being the mastermind behind the July 7th bombings in London.
Mr Kassir maintains his innocence of all the accusations being made against him, saying he's never been to Oregon and has never met Aswat. The charges, he says, have been fabricated as a political attack on Islam. He does, however, admit to being an admirer of Osama bin Laden.
Neither Sweden nor Lebanon will extradite Mr Kassir, who holds both Swedish and Lebanese passports. But the Czech authorities will have no such qualms - if, that is, they judge the US request to be justified.