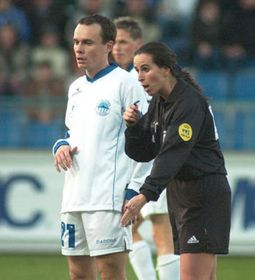 Dagmar Damkova, Photo: CTK Two weeks ago Dagmar Damkova took charge of her first game as main referee in the Czech football league. Football is very much a man's world and Ms Damkova, who is 28, has had to overcome some resistance from her male colleagues.
"It happened to me that one referee wrote something in a newspaper that it's not OK to have a female referee, it's nothing to do with football. And then he saw me refereeing a men's second division game and then he came to me and said I'm sorry, you are really good. It was nice."
Though Czech football fans haven't had long to get used to the concept of a female ref in the men's game, those I spoke to in Prague were all for the idea.
Young man: "It's OK with me. I'm also a football player and if I play a game refereed by a woman I'll respect her, in a very good way."
Young woman: "I think it's great. She was the first and I think it's a good thing."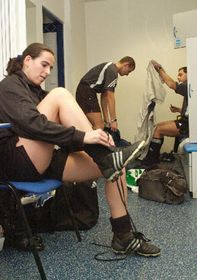 Dagmar Damkova, Photo: CTK You don't think it's strange to see a woman ordering around 22 men?
Young woman: "I saw part of the football match she refereed - it was unusual but I wouldn't say it was strange."
Sports journalist Tomas Kohout says Czech football is rife with bribery, and that may be one reason a woman has risen to the top.
"It's necessary to give men referees money, but giving money to a woman is a bigger problem than to men."
You don't think there was some discrimination against women in football in the past?
"I don't think so, I think that generally football is entertainment for men."
Having reached the highest level of men's football in the Czech Republic, can Dagmar Damkova imagine refereeing at international level?
"There can be the possibility that also I can get men's international games. But it's up to me, it's up to me how I perform in our first division, how I will fulfil the fitness tests, so it's up to me."