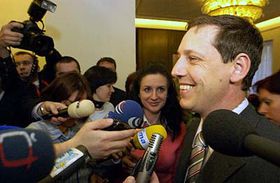 Prime Minister Stanislav Gross, photo: CTK This week a growing scandal over Prime Minister Stanislav Gross's property came to a head. The youthful looking Mr Gross has not been out of the headlines since he claimed to have borrowed money from his uncle, a retired soldier, to buy his luxury Prague flat. After his uncle made a number of contradictory statements about where he got the money the story became even murkier, with a succession of dubious characters coming out of the woodwork.
The Czech public is unimpressed: polls suggest eighty percent say they don't believe him, and 60 percent want him to step down. Commentator and journalist Eric Best:
"He went from a politician who was very popular because he was young and dynamic to a politician who was almost despised or disliked by a large portion of the population. It's been an issue of going too high too fast and the backlash that that has brought on."
On Thursday Mr Gross faced a grilling in parliament, with the toughest questions coming from Petr Necas of the opposition Civic Democrats. Was he satisfied with the prime minister's answers?
"Absolutely not, because it's not possible to talk about any answer. It was only some kind of tricky business of the prime minister. And I hope that our public opinion will be able to observe this strange behaviour of the prime minister."
But this week it was neither public opinion nor the opposition which caused most problems for Stanislav Gross; rather it was another party in the governing coalition, the Christian Democrats, who at one point were calling for his head. In the end the crisis was diffused, but it has left the coalition - with a majority of just one - looking shaky.
Where does this all leave the erstwhile boy wonder of Czech politics? Eric Best says Mr Gross may now backtrack somewhat in order to maintain a career in politics.
"I would not rule out the possibility that he resigns early from the chairmanship of the CSSD [Social Democrats], for example some time later this year, and drops out of sight for a while and allows someone else to lead CSSD into the elections.
"By that time we would have forgotten pretty much about his apartment affair. That would allow him to come back - he's still very young, he's in his mid-30s - come back some time later and have a second run at it.
"But I think for now he's more like a dead man walking; his career is over as prime minister but he's still holding on to the position."
So is Stanislav Gross a 'dead man walking', or just temporarily on the ropes? Either way there are sure to be interesting times ahead for the youngest prime minister in Europe.