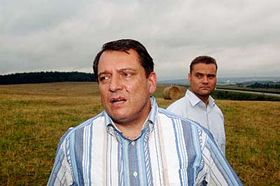 Prime minister Jiri Paroubek at a location where the techno music festival took place, photo: CTK Just over a year Jiri Paroubek's only experience was in Prague local politics, so it was a surprise to many when he was promoted in May from local development minister to prime minister. But he has been a big success on both the domestic and international fronts, impressing many with his can-do attitude and ability to find compromise.
Political analyst Vladimira Dvorakova:
"First it was mainly because he started to work very hard and he was able to solve a lot of problems that were not solved before and that were problems for Czech society. I think that he looked like a very pragmatic politician who is able to discuss things with people."
Mr Paroubek's party the Social Democrats looked like a spent force before he was made prime minister, but they have since bounced back in the polls. Some pundits have spoken of the "Paroubek phenomenon" giving the party a new lease of life ahead of elections next summer.
"I think that his popularity can influence the results of the Social Democrats, and it's quite clear that it's not just his popularity - according to public opinion polls support for the Social Democrats is growing. I think this can help a lot and it can change the results that were expected. Because everybody supposed that the victor would be the Civic Democratic Party. This may not happen."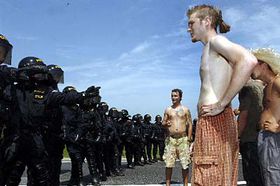 Photo: CTK But just when everything was going well for Mr Paroubek he made what Vladimira Dvorakova calls his first big mistake, when he backed the Czech police's violent crackdown on a free techno festival in the countryside last weekend.
"I think it has started some crisis, and we shall see whether it will be solved quickly. But I think that a lot of people are very unhappy with the solution that was taken by the police and which was supported by the prime minister."
Techno fans have held several demonstrations against the police's actions this week. One was attended by former president Vaclav Havel, who expressed solidarity with what he called an authentic community in an age of cynicism; meanwhile a spokesman for the current president, Vaclav Klaus, drew a connection between last weekend's events and communist-era repression.
For his part Jiri Paroubek is sticking to his guns, insisting the police were right to intervene. He has described the people behind the Czechtek festival as well-organised and dangerous anarchist trouble-makers.
But it would seem that for the first time since his appointment the Czech prime minister has misjudged public opinion, and suffered his first major setback.