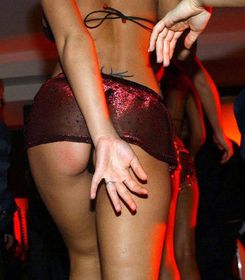 Photo: CTK The Czech authorities, meanwhile, are also fighting a thriving trade in human misery. The Czech Republic is chiefly a transit country, although occasionally Czech women are themselves forced into prostitution abroad, and women from Eastern Europe often end up working in the sex clubs of Prague and the border regions. Radio Prague's Rob Cameron has been speaking to the deputy director of Crime Prevention at the Czech Interior Ministry, Radim Bures.
"Since 1995 the Czech police have had a special unit devoted to the issues of trafficking in human beings. They have full cooperation within Europe, but mostly there is excellent cross-border cooperation with Germany, because major cases are located along the German border. The Czech Republic is part of a United Nations project against trafficking, and we also cooperate with the Netherlands, Austria and other countries."
How difficult is it to actually track down traffickers? How difficult is it to actually track them down, arrest them, charge them, and bring them to justice?
"The main problem is that there is still a very low level of cooperation from the women. So to develop the criminal case means to work on it for a rather long time, using other methods like the tapping of phones. There are ways how to catch them, but it's rather lengthy and expensive and it takes rather a long time. So our intention is to build a system of support and protection for these women, in order also to motivate them to be witnesses against the traffickers."
Often, as you suggested there, the victims are afraid to say anything, afraid to come forward, perhaps because they then face deportation back to Moldova or Ukraine or wherever. If they come forward and speak to you, then they'll be on the next plane or the next train back to Kiev. Is that part of the problem?
"First I should I say that it's not a crime to be a prostitute in the Czech Republic, so they are certainly not penalised for being involved in any kind of sex business. But many of them have illegal status in the Czech Republic, and as soon as they're apprehended by the police, according to our laws, they can be deported if they're living here illegally. And actually that's one of the major issues we would like to develop, to provide them some protection in order to avoid this immediate deportation. We propose providing them with time for recovery and some psychological and social intervention, and then provide them with residence permits according to their willingness to cooperate with the state."