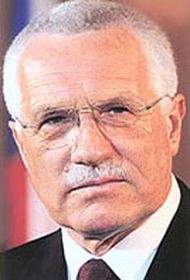 President Vaclav Klaus Changing the guard at Prague Castle. But the changes are not only outside the castle walls. Inside there's a new president. President Vaclav Klaus, the right-wing former prime minister who transformed the Czech economy from communism to capitalism. Mr Klaus received the keys to Prague Castle last year. And he's decided to make a few changes.
"To use as much as we can the facilities existing in the Castle, for better services to the visitors."
Chancellor Jiri Weigl, head of the President's Office. He explained to me that the meagre facilities at Prague Castle are little more than expensive tourist traps, making it difficult for the average Czech family to enjoy a day out.
"We simply want the Castle to be a place that serves both foreign and domestic visitors. Not an exclusive place that an ordinary Czech family cannot come, visit and enjoy."
Chancellor Weigl says he was appalled at the media reaction to the plans to modernise the Castle. All the President's Office wants to do, he says, is to turn a few disused buildings into reasonably priced cafes, pubs and shops. To make Prague Castle a more pleasant place for both Czech and foreign visitors.
"Every year about five million people are passing through, and they should simply receive good quality and accessible service. That's our intention."
And no McDonald's.
"No McDonald's. Definitely not!"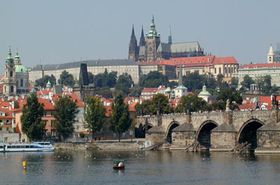 But Prague Castle inhabits such a unique place in the hearts of the Czech people that any changes are bound to be controversial. One of the first groups to oppose anything that might infringe upon the city's baroque palaces and gardens is the Club for Ancient Prague. But surprisingly, they agree with Chancellor Weigl. As the Club's Martin Krise told me, the Prague Castle district was once a living, breathing quarter. Now, he says, there's little reason to linger.
"The disaster is that the people are still grouped in those herds with their tour guides, who press them through the Castle. Why not stay there? This is a visit for the whole day."
But you need somewhere to eat cheaply or reasonably, and somewhere to buy souvenirs.
"Yes, and if you don't have any possibility to eat, then you just leap back into your bus and go somewhere and in the evening you don't come back of course. So by 8.30 in the evening there are no tourists at all."
But that's great isn't it? The Castle is fantastic at night, being so deserted.
"It's great, of course. It's great. But the feeling is emptiness."
Which is not what the Prague Castle area has traditionally been like in the past.
"Exactly. It was a vivid place, with people, with history. And what happens there now? Nothing."