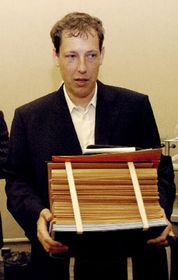 Stanislav Gross, photo: CTK Some 300 people gathered outside the Government Office demanding the resignation of Pavel Pribyl, appointed by Prime Minister Gross as part of his shake-up of the cabinet. The crowd had turned up to express their fury at the appointment, after it emerged that Mr Pribyl had commanded a riot police unit in January 1989, when anti-Communist demonstrations on Prague's Wenceslas Square were brutally suppressed. Among the protestors outside Government Office was former dissident Jan Urban, who took part in those demonstrations.
"This demonstration has great symbolic value we are fighting against an act of symbolic evil. Try to imagine that in 1960, 15 years after the Second World War, a German Chancellor would appoint a former SS unit commander as the head of his office. I think the British public, if no-one else, would go berserk and protest. We have exactly the same situation."
Days after that protest outside Government Office Mr Pribyl finally stepped down, after proof emerged that members of his unit were among those who beat demonstrators in January 1989. Mr Gross chose a former anti-Communist dissident to replace him, perhaps in a bid to undo the damage to his credibility. But the problem didn't go away. Soon afterwards it emerged that a Social Democrat member of Prague City Council was also a former riot police commander, although he says he wasn't actually on duty in January 1989.
So how did they manage to slip through the net? What happened to the so-called Lustration Law, which bans former Communist officials from working in the state administration? Prokop Tomek, from the Office for the Documentation of Communist Crimes: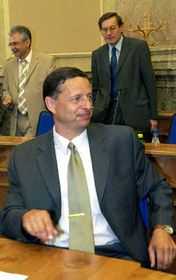 Pavel Pribyl, photo: CTK "The criteria these commissions used were not unified, and not well thought out. They differed from one commission to the next. For instance a lot of attention was paid to whether or not the given person had been involved in the persecution of dissidents here at home, but I know that a lot of people involved in counter-espionage, whose task it was to monitor foreign embassies and prevent Czech citizens from making contacts with foreigners, actually sailed through those security checks undetected. "
Prime Minister Gross must be hoping no more skeletons will emerge from the closet, and that the issue will quietly die down. But the Pribyl affair has served to highlight the fact that 15 years after the fall of Communism, the Czech Republic has yet to deal fully with the past. In fact for some people - like former dissident Jan Urban - the process hasn't even begun.
"We never even started to come to terms [with our Communist past] and I think this is the fruit we are bearing for our inactivity in the early 1990s."