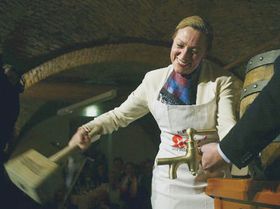 Benita Ferrero-Waldner, photo: CTK Presidential elections in Austria are more about personalities than policies. The post is largely ceremonial and meant to be above party politics. Nevertheless both candidates have commented on some of the major political themes - such as European enlargement. Many Austrians fear they will lose jobs to cheaper labor from Slovakia, Hungary, the Czech Republic or Poland when these countries come into the EU on May 1st. When asked how he would calm those fears Heinz Fischer carefully avoided any reference to possible negative effects of enlargement.
"The most important aspect of European enlargement is the fact that peace in Europe has more chances and if this group of countries is enlarged from 15 to 25 the zone of peace and stability in Europe is enlarged."
The People's Party candidate, and current Foreign Minister Benita Ferrero-Waldner was also asked what she would do to calm workers fears over EU enlargement. She pointed to the seven-year transition period Austria has imposed on the free movement of labor from new member states.
"We have found a formula where we Austrians can decide for ourselves during the period of seven years whether we accept foreign workers to come in or whether we keep them out until we see that the situation on the labor market is mature for it."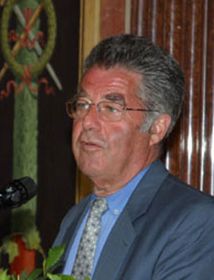 Heinz Fisher As head of state the President can set the tone for major political debate. One of the most controversial issues in the coming years will be Turkey's bid to join the EU. Neither candidate gave a ringing endorsement to Turkey's EU bid - Heinz Fisher.
"The European Union has already made a decision saying in principle Turkey must not be excluded to be a candidate. But a candidacy can only be serious and can only be taken into consideration if Turkey fulfills the so-called Copenhagen criteria."
As foreign minister Benita Ferrero-Waldner has signed up to Turkeys EU application - but she also expressed reservations:
"Turkey will have to meet the political criteria of Copenhagen and for the time being I think that Turkey is not yet there. But not only the political criteria have to be looked at very carefully, it's also the economic criteria because we know that the market access and the competition rules are very fierce."
It will not be issues like EU enlargement or Turkey which decided the election. Rather it will be the electorate's perception of who is most experienced and capable to carry out the role of head of state. Both have been stressing their credentials in this area and both would appear well qualified. Austrians will decide on Sunday.