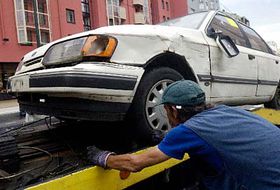 Photo: CTK The Czech Wrecks rally starts in the French port of Calais on 1st September and finishes in Prague three days later. It is one of the so-called banger rallies organised by a British company specialising in these events. I spoke to the main organiser Justin Clemens.
"Teams have to put the cars together, they've got to be totally road-legal and insured and they've got to have driving licences. And you take the old cars across Europe like it's their final journey. And as you can imagine, because the cars are cheap, they are not the most reliable vehicles either and that's the fun of the event. We would expect probably 10 percent of the cars not to make it, they will actually die terminally on the way to Prague."
Radio Prague also asked Justin Clemens about the fate of the cars which actually make it to Prague.
"One set of people will drive the car home. They spent months and months with this old car making it work and renovating it and they can't bear to leave it in a foreign country. But the other set of people will actually find a scrap yard in Prague before they leave and get the car scrapped properly before they jump on a flight and fly back to London. In the past, teams weren't quite as trustworthy about this and we had a real problem. However it kind of sorted itself out when one of the cars was actually traced by the Italians and the team got sent a 6,000 euro fine for dumping their car. We mention it to teams that the authorities will track you down eventually and you will get a whopping great big fine and that's a real incentive for people not to dispose of the cars on the street."
Czech police say they are not planning to take any special measures but anyone caught breaking Czech laws will, of course, be punished.
As the organisers say this is the first time local teams have signed up for such an event. David Patek and Petr Zalud are both in their mid-thirties. They have a fondness for old cars and decided to prove their more than 20-year old Renault, affectionately named Praline, can stand up to the challenge. Petr Zalud says that Praline will not be scrapped after it arrives in Prague.
"It is certainly not our case. On the contrary, we believe her value will actually increase after the rally. Praline is a racing car and she may take part in other rallies in the future."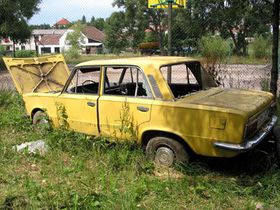 Some 45 teams are expected to take part in Czech Wrecks and the team earning the most points will win 1,000 pounds in prize money. This is what David Patek told Radio Prague when asked what he thought their chances were:
"Do you mean of making it to Prague or actually winning? Well, we know the route, we are good navigators, and the car is in good shape. Given that our budget for the rally, including insurance and diesel, is exactly the same as the first prize, we basically have to win because we need to cover the costs."
A new Czech traffic law that came into force last month introduced penalty points for driving offences. And as the Czech team's David Patek says, apart from collecting points in the rally, they must be careful not to be given any penalty points by the Czech police in the last stage of the race.