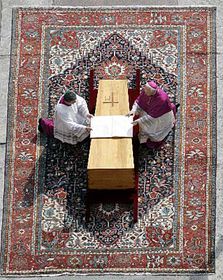 The funeral of Pope John Paul II, photo: CTK In the Czech Republic black flags flew from church buildings right up until Friday's funeral, which church officials and Czech President Vaclav Klaus attended. Mr Klaus recalled one of his fondest memories of the Pontiff:
"I remember when he was about to fly back to Rome, and we were waiting at the airport. It was evening, and he'd had a very long day. At that time he was already sick. A guard of honour was waiting on the tarmac as always when a head of state leaves, but the pope was having great difficulty walking. I try to persuade him that no-one would mind if he didn't inspect the guard, but he wasn't to be persuaded. He went ahead, and I could see he really was drawing all the strength left in him. This was good example of his attitude to life and the world around him, and the amazing standards that he set for himself."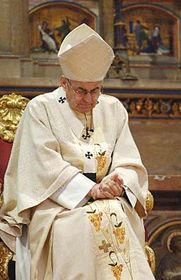 Cardinal Miloslav Vlk, photo: CTK Cardinal Miloslav Vlk of Prague will be among the 117 cardinals who will choose a new pope:
"Coming from a communist country, John Paul II had first-hand knowledge of the regime. So he understood our situation and was able to draw on that experience and act accordingly. When asked after his election what his church policy would be towards Eastern European countries - he said - certainly not naïve."
Meanwhile in Slovakia, President Ivan Gasparovic and church leaders prayed in the chapel of the Presidential Palace. Flags in the Palace courtyard flew at half-mast and President Gasparovic expressed his sympathy with these words:
"In such a moment it is hard to find words. I found only one - he was a philanthropist. He loved people and that is why people loved him."
Prime Minister Mikulas Dzurinda said John Paul II contributed greatly to the end of communism in the former Czechoslovakia. He knew Slovakia and liked its people and he will be missed by members of all churches.
The Slovenian government declared a day of mourning on Friday and people observed three minutes of silence. President Janez Drnovsek and Foreign Minister and OSCE chairman Dimitrij Rupel attended the Pope's funeral. Prime Minister Janez Jansa paid this tribute: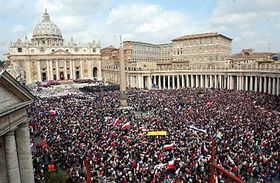 Vatican, photo: CTK "We will never forget his support in the most critical times for Slovenia, his early international recognition of the new Slovenian state, his respect for the language and his two visits to our country".
We spoke to a number of people on the streets of Maribor for their reactions:
"It is a fact that he has been a great man and Pope and there will never be another one like him. I believe he was one in a million, therefore it is a great loss not just for religious people."
"He was the best Pope ever. Especially for the youth and in Slovenia too people go back to their religious roots."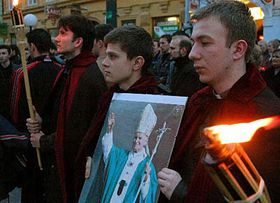 Vatican, photo: CTK Hungary's President Ferenc Madl, Prime Minister Ferenc Gyurcsany and opposition leader Viktor Orban all attended the funeral of Pope John Paul while many Catholics in Hungary went to pray. Bishop Laszlo Kisrigo from the Budapest Diocese of Esztergom told Judit Ferenczy how John Paul had brought remarkable changes to the Churches of Central Europe:
"I remember the day when he was elected. We were hoping very much that this person coming from this side of the Iron Curtain - a pope who knows the situation of the churches in central and Eastern Europe will be able to enable the churches in these countries to acquire more freedom. I am sure that no one denies that in his years as Pope, this had taken place. I am absolutely convinced that he played a unique and enormous role in the fall of the Iron Curtain and in the changes that came about fifteen years ago in central and Eastern Europe."
How many times did he visit Hungary?
"He came to Hungary twice and on both occasions it was a real feast for Catholics and all people of good will in Hungary."
What do you think of allegations that he did little to help the Hungarian minority in countries like Romania that surround Hungary?
"It is a very difficult question, also for the Vatican diplomacy. He evidently had to be the Pope of all Catholics in every country. Worrying about Hungarians living in other countries with minorities very often having rights denied to them, we would have liked to see the Holy Father do more for them. But I am sure that he did as much as he could."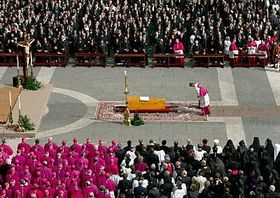 The funeral of Pope John Paul II, photo: CTK Some electronic media have been saying that the people around the Pope should have let him die in peace and not made him give a public appearance through a window when he was very sick...
"If this had carried on much longer, it would have been a little awkward. But it turned out to be a real testimony given by the Holy Father of the fact that even a sick, dying person has human dignity."
Do you think he gave us an example of how to die?
"Yes, I am sure that is what he did and everyone who practically watched him die had this impression."