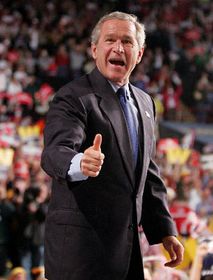 George W. Bush, photo: CTK Poland was one of the first to react - President Aleksander Kwasniewski said that on terrorism Bush "is a very decisive leader and that continued cooperation with him was "really good news". But in a phone call to the White House Kwasniewski said there was a need for new U.S. initiatives in trans Atlantic relations.
Hungary's President Ferenc Madl told George Bush the strategic partnership between Hungary and the United States is "stronger than ever before." But at the same time Prime Minister Ferenc Gyurcsany was announcing the withdrawal of Hungarian troops from Iraq by March 31st. next year. Polls show 60 percent of Hungarians want them home.
The Czech President, the conservative Vaclav Klaus. Gave an unqualified welcome to the Bush re-election. In tough times - he said - Bush proved he is the true leader of his nation.
Slovakia's Prime Minister Mikulas Dzurinda said - the transatlantic partnership and the entire democratic world need the president of the United States to be a leader who can successfully finish the fight against terrorism. He said he was absolutely confident Mr. Bush is such a leader.
Meanwhile in Austria the head of the People's Party delegation in the European parliament, Ursula Stenzel has said the US should reject the "arrogance of power" and Chancellor Wolfgang Sch'üssel stressed the need for a strong partnership between the EU and the United States.