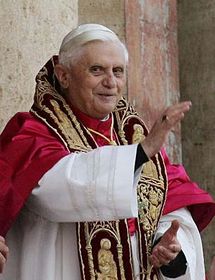 Pope Benedict XVI, photo: CTK Polish priest, father Piotr Krysztofiak, is a Prague correspondent for Radio Vatican:
"It was a long pontificate and John Paul II was a very pleasant pope and a very great man so we need some time to accustom ourselves to a new one. When you are a Christian, you cannot look at people from only a nationalistic point of view. He has been to Poland on several occasions and the Bishop will probably invite him very soon so I am sure that he will be accepted very warmly and he will surely say some good words on John Paul II."
John Paul II was a very special person to this part of the world. Cardinal Joseph Ratzinger, Benedict XVI, is from Germany. He was, of course, very close to his predecessor but do you think that things have changed for the Catholic Church in post-Communist Central Europe now?
"We can say that he is also from this part of Europe. He originally comes from Munich which is just a 3.5 hour car ride to Prague, for example. So the question is not from which part of Europe he is. At the moment, it is about the emotional engagement and I think that we need some time to see what he will say and do. He showed that he respects John Paul II very much and even said he feels that John Paul II is helping him all the time. Secondly, we expect that he will be very open to the people because the new Pope now has to be very open to the people."
You're talking about the believers now, about the Christians. But looking back at John Paul II, he also touched the hearts of many non-believers. Joseph Ratzinger is from Germany, which is good, but then he is also one of the more radical and conservative Cardinals, who was elected Pope. Do you think that he is going to have that special place in the hearts of the people from this part of the world?
"Well, we are expecting somebody who is perfect as John Paul II really was exceptional, he was a great man. So, if the new pope won't be as special as the one before the other priests must be very aware of it and make contact with the non-believers. But what is very sad is that when you look at the newspapers you find so much criticism. We are accusing him at the beginning when he has not done anything yet."