Jarmila Knight: "It would be a tremendous, tremendous shame to let Terezin fall into insignificance. The university campus was the obvious choice."
Jarmila Knight is one of the people behind a campaign to found a Central European University in Terezin.
"The renovation of the buildings already counts on the structure of the buildings, and the renovation will take into account all the needs that are there for a proper modern university town. We are hoping that it will become a centre for conversation, for exchange of ideas, for discussions about the future of Europe, for discussions that will lead to enhancement of the integration of all European nations. And basically that it will become a truly European centre."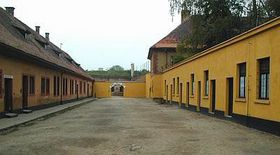 Terezin Organisers are hoping that can happen if they receive funding from the European Commission and the Czech government. In the meantime, students from the Berlin Technical University have already drawn up plans. Professor Astrid Debold-Kritter says they have learned a lot from the experience.
"They were students from Berlin, a metropolis, and they came to Terezin, a planned town which seems harmonious, but on the other hand we know of the cruel history. So this is a challenge - to concentrate on the history of this place. In one sense the monuments are very important. The only thing is that it has intangible values, because of the ghetto, memorial values."
Tomas Jelinek is a prominent member of Prague's Jewish community. He welcomes the idea of building a university in the former ghetto.
"I would support every decent way which would mean a good future for Terezin, which would make it an international place. Because I believe that Terezin is part of the European culture and should be taken as that."
Wouldn't you be afraid perhaps that if the town becomes a university town it might somehow detract from the museum, or the history of the town?
"It's the difficult question of memorials. I would personally like a live city which would know about its identity and which would accept that there was a ghetto, and there was a small fortress and so on. I would not be afraid of that, but of course we can imagine the case that there would be students drinking loads of beer and vomiting in the memorials - this part I would not like.
"But I don't see a problem...I think it could be built as a city which would bring young people, who would have a chance to understand more what happened there during the Second World War. And it would be a by-product of the educational process for people from central and Eastern Europe."