'Palac', or Palace in English, is an 18th century royal former aristocratic residence in the Warsaw suburb of Marki. At the turn of the millennium the chateau was given a facelift and a new lease on life. A group of private investors decided to make it into a luxury nursing home. Daniel Balla a twenty-six-year-old economics major says that he invested his time and money for one simple reason.
'Right now we can observe there is a gap in the market, because now state-run residence homes are overbooked and there is a need for private residential homes'
In the rehabilitation centre, a group of senior citizens are exercising. One lady's on a bike, and there's another lady who's doing some pushups. Daniel Balla makes sure that the needs of the residents are taken care of.
'Since I was young I always tried to help people. I was doing shopping for older people. The first time when I saw a nursing home, I saw that the residents lived in poorly run homes, and the smell of urine was everywhere. It wasn't a very nice place. When I decided to open a residential home, it was seven years ago. Owners don't need special qualifications. The residents have 24-hour medical care. We provide exercise for everyone, musical entertainment, and tea-time at 4pm every day'
The Palace in Marki may be high on health care, but as I strolled the grounds I couldn't help feeling a sense of loneliness within it. It's estimated that Warsaw and the districts around the capital have 140 private and public homes.
Nursing home resident Barbara is an 81 year old woman with a warm smile and thoughtful eyes, the daughter of a pre-war Polish diplomat:
'I am not very sure why I am here and I am very home sick. I read books, I read newspapers, I write letters and that's about it. I try to persuade my son that it is time to go home....... I feed ducks...they know I am coming, I miss my cat and my neighbors'.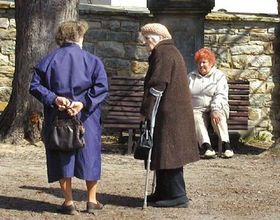 On average it costs close to 2500 zlotys or 600 euros a month to stay in an above average private home. This is three times the average state pension. Insiders argue that the price depends largely on turn-over and competition is fierce.
Wanda is also 81 years old. Her room has a picturesque view of the forest. She says that she managed to jump the long queue by offering a "gift".
"I understand that there is a waiting list to stay in a newer part that is more luxurious. What I did was to sell my apartment and offer the money as a gift to the people here, in order to speed things up"
Wanda, a sensitive woman with beautiful blue eyes, says that she spends her time constructively, despite the fact that she feels like a stranger and out of place most of the times:
'I read a lot. There are times when we meet - on Tuesdays we meet and sing, and on Thursdays we do all kinds of handy work. When you come as a new person, it is not so easy to get included because you have different views on different things.'
But compared to the shabby, understaffed state-run nursing homes with waiting lists too long to contemplate, Wanda and Barbara may count themselves lucky to be able to afford an alternative. For the majority of elderly Poles, though, the prospects remain bleak.