Government approves main goals of fiscal reform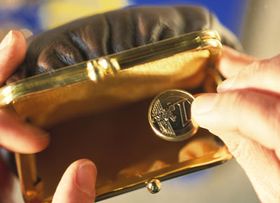 Photo: European Commission The Czech cabinet on Wednesday approved the government's goal of cutting the public finance deficit to four percent of GDP in 2006 as the country prepares for eventual euro adoption. However, details of the sweeping reforms plans were left for further debate. The main goals of the public finance reforms include:

- gradual reduction of public finance deficit from 6.2 percent of GDP in 2003, to 5.5 percent in 2004, 4.8 percent in 2005, and 4.0 percent in 2006.
- the annual central state budget deficit to be reduced from 5.3 percent of GDP in 2003, to 4.5 percent in 2004, 3.9 percent in 2005, and 3.1 percent in 2006.
- the narrowing of the deficit will come from a mixture of public spending cuts and tax increases.
- increasing the efficiency of the social system
- pension system reform
- changes in financing of health insurance companies, municipalities and various off-budget funds and agencies.
April retail sales rise beats forecasts
A higher than expected retail sales growth in April confirmed a strong domestic demand. The Czech Statistics Office said retail sales grew 5.9 percent in April, accelerating from a revised 1.4-percent rise the previous month. The data, coupled with recently released first-quarter GDP growth of 2.2 percent, show the economy is braving the sluggish Western Europe. However, analysts still expect an interest rate cut in June or July of 25 basis points due to the benign inflation outlook and a recent cut in rates by the European Central Bank.
Producer prices down in May
Czech industrial producer prices (PPI) in May were down 0.8 percent, year-on-year, mainly due to falling world oil prices. The Czech Statistics Office said that month-on-month PPI was down 0.3 percent. Construction prices were up an annual 2.2 percent while agricultural prices fell 8.6 percent.
Current account deficit lower than expected
The Czech current account deficit reached 13.9 billion CZK (524.3 million USD) in April, compared to a revised 9.3 billion crown gap the previous month. The Czech Central bank heavily revised downward all of its first quarter current account data, but made no comment.
RWE Gas acquires remaining 3 percent in Transgas
The Czech privatisation agency, the National Property Fund, said on Thursday it had agreed to sell a three percent stake in natural gas monopoly Transgas to Germany's RWE Gas. RWE Gas offered 1.3 billion crowns ($48.8 million) for the stake. It already owns 97 percent of the firm. RWE beat Slovak bank J&T Banka in the tender but the price is still well below the three billion crowns the Czechs had said they wanted to raise from the sale.
LNM Holdings cancels plan to buy out Nova Hut minority shareholders
LNM Holdings, a part of the world's second largest steel group LNM, has said it is cancelling a plan to buy out minority shareholders at Czech steel maker Nova Hut. It said in a statement that Nova Hut's share price, which has soared by 37 percent in expectations of a generous buyout offer, now exceeds the company's value, adding that further steps would be considered. LNM acquired a majority in the indebted steel firm by buying a government stake early this year. It has said it would seek fully to take over the steel maker and delist its shares.
Skoda Auto mildly optimistic about this year's sales
The Czech Republic's biggest company, Skoda Auto, a unit of the Volkswagen group, said it had managed to avoid a decline in domestic sales in May and viewed the rest of the year with mild optimism. Skoda CEO Vratislav Kulhanek said domestic sales did not develop positively until April but in May the company sold more than 7,000 cars for the first time this year. He was cautious though over the prospects for a turnaround in Skoda's overall sales, which have been hit by a global slowdown. Skoda's performance is closely watched by analysts as it accounts for six percent of the country's gross domestic product and more than 10 percent of exports.