"Officially it all started in 1991. I had had eighteen years of experience in cosmetics working for the Institute of Medical Cosmetics. After maternity leave, I had created new products and the Institute was given an award and a grant. That was the moment when I learned how it all works. I learned about what it takes to come up with a new product. So I began offering my own products to salons. Today we produce up to forty different items for professionals. Later on I created products for every day users and we sell those in about a hundred specialized shops."
Eva Stepankova summarizes her journey to success. As she admitted in one interview some time ago it would be a lie to say that she was either particularly brave or adventurous. It was just a necessity. The company she had worked for before went into restitution following the fall of the previous regime.
"At the very beginning I knew very little, nearly nothing about business, how to run such a company and what it involves. But I had hoped it would work because I didn't want to sell my ideas to others any more and I was very eager to succeed. Looking back, I realized that it was similar to having a relationship. At the beginning you feel a lot of passion, thrill, and enthusiasm. But, if you ever thought about it in detail, you probably wouldn't even have the courage to go for it."
Would she do it again? Eva Stepankova agrees without hesitation. She says that today it would be much easier as the conditions for new entrepreneurs are now far more developed than before. "All it takes is to be realistic and keep your aims small. Of course you must work hard."
It took just eight years and Eva Stepankova gained both financial profit and prestigious awards for Ryor, which she still heads today.
"In 1999 I was awarded Outstanding Businesswoman of the Czech Republic and a year later I became one of the forty leading Women Entrepreneurs of the World. I felt much better about the Czech award. It was much more clear and exciting. We had no idea who were the underdogs or who were the favorites. We were all interviewed in the same way so it was impossible to deduce. The jury recorded everything they saw from production to other details. To be honest, this award was well earned and we deserved it. The one that followed was more about the prestige."
The World Association of leading Women Entrepreneurs has - since its inception in 1997 - honored 300 businesswomen. Eva Stepankova is one of them. All own at least 50 percent of their companies and generate at least 20 million US dollars yearly in turnover.
"The Women Entrepreneurs of the World event was simply enormous. It took place in Venice, Italy. But it was not so much about running a business, as presenting your company. There were businesswomen with much larger companies than mine, for example with stakes in the media. It is something that is not comparable. You simply can't compare countries like the Czech Republic, where entrepreneurs started some ten years ago, with countries where businesses have passed from generation to generation. Those people were given something from their grandfathers and are continuing in a long and far more tested tradition."
Eva Stepankova's daughter is just seventeen and as her ambitious mother points out she still has a lot to learn and a lot of traveling to do. But she is very likely to be one of the first "business heirs" in the Czech Republic. Her hopes are high, though only time will tell.
The awards were definitely a boost, and they might have pushed Eva Stepankova into the limelight, but of course one always has to look to the future. In her business, there is no shortage of tough competition.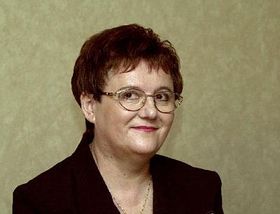 Eva Stepankova, photo: CTK "The next year was very intense media wise. Everybody wanted to talk to me and find out how I had earned the award. But there were no other benefits apart from that, neither in the Czech Republic, nor abroad. However the fact that we were given the award might have influenced our customers. I think they came to trust our products more."
Now, coming up with new products is Eva Stepankova's main challenge. She has to follow new trends and understand and follow a developing need of Czech women, creating a product and then testing it herself.
"I suppose that it is about instinct more than anything else. It is very important for a woman. Anytime I am about to make a decision I listen to my instinct and then I just try to reason why to do this or that."
Instincts, knowledge, and an undaunted entrepreneurial spirit seem to have worked for Eva Stepankova and brought her renown and success. Her company is profitable and as its president she has left a mark. Is there anything she would change?
"I would definitely change my age. I have to admit that sixty-one is not the best age. I guess I would be happy if I was about forty. Yes, that is the right age when you are mature and you know what this world is about. Life really starts once you reach forty. You only have a few health problems. Secondly ... I would have wanted the regulations and system here to be better and more developed back in the 90s. I think I could have achieved more if the situation had been different at the time when I was setting my own business."