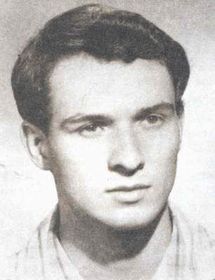 Jan Palach was born in the Central Bohemian village of Vsetaty on August 11th, 1948, the year the Communist Party came to power in Czechoslovakia. He was by all accounts a bright, serious and studious boy. Following his graduation from high school, he began studying at the Prague School of Economics in 1967, but transferred to the Philosophy Faculty at Charles University.
By this time the Prague Spring, when the Czechoslovak Communist Party introduced a sprinkling of liberal reforms, was in full swing. But it was not to last. Moscow was infuriated by the liberalisation of Czech media and cultural life, and on August 21st, 1968, just ten days after Jan Palach's twentieth birthday, the armies of the Warsaw Pact took action.
The reaction to Jan Palach's death was phenomenal. According to some estimates, up to 500,000 people attended his funeral. Jan Palach left a note giving the reasons for his public suicide, in which he called himself Torch One. The note said that others would follow him in committing the same act, until the occupying armies left the country. According to a fellow student, Palach asked before he died that no-one follow him in committing suicide. A month later, however, another student, Jan Zajic, killed himself in the same way.
But it didn't take long before doubts were raised over the wisdom of Jan Palach's act, and what it could achieve. According to philosophy professor Erazim Kohak, this was because the Czechs were unable to face up to Palach's challenge in the era of normalisation: