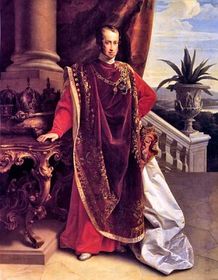 Ferdinand V The coronation of Emperor Ferdinand as the king of Bohemia in September 1836 was a remarkable event in Prague. Thousands of people lined the route of the royal procession to St Vitus Cathedral where the emperor was crowned as Ferdinand V, followed by a feast in the castle halls. On that day, the 7th of September, Ferdinand V the Benign became the last crowned king of Bohemia. His successors on the throne – his nephew Franz Josef I and briefly Charles I – never accepted the Bohemian crown.
Many depictions of this historical day can be seen at a new exhibition at Prague Castle, dedicated to Ferdinand V and his era. Jaroslav Sojka from Prague Castle is the curator of the exhibition.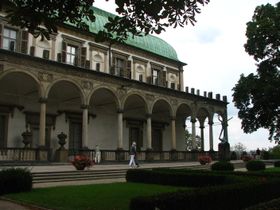 Queen Anne's Summer Palace "In Queen Anne's Summer Palace, visitors can see for example an enclosed carriage Ferdinand used for travelling around Prague and in his summer retreats which we have on loan from the Postal Museum. There are also portraits of him and his wife from Prague Castle Collections, as well as various litographies and graphics sheets depicting his coronation. We also have a set of beautiful porcelain busts from 1820s and 1830s, originally from the Zákupy chateau."
Ferdinand V was also the last imperial inhabitant of Prague Castle although he came to live here only after he stepped down in the wake of the 1848 revolutions. His ailing health as well as apparently limited faculties and abilities made him a weak ruler, and state affairs of the large Austrian Empire were run by his ministers, mainly by Chancellor Metternich.
"People in Vienna, Prague and other parts of the monarchy were disappointed with the rule of his influential chancellor, Klemens Wenzel von Metternich. This dissatisfaction eventually turned against the Emperor although no one officially requested him to step down.
"Ferdinand simply left Vienna for Innsbruck and later for Olomouc and declared himself a constitutional monarch. But I think that if his family – mainly Archduchess Sophie – had not forced him to resign, he would not have done so of his own accord."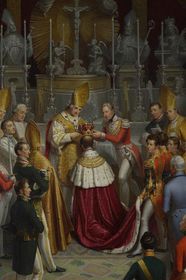 Many myths appeared about the nature of Ferdinand's condition. He was considered feeble-minded, and suffered from epilepsy. Due to the practice of intermarriage, so notorious in the Habsburg house, he only had four great-grandparents, and he and his wife, Maria Anna of Savoy, had no children.
"We know he suffered from epilepsy and that his condition was wrongly treated. His disease manifested itself by frequent fits of exhaustion but when you realize that he went through many long ceremonies, and that he spoke German, Czech, Hungarian, Latin and even Italian, he certainly did not embarrass himself or the empire he ruled at the time."
The emperor first fled the popular unrest in Vienna in May, and spent the next few months at his court in Innsbruck. In August, he left the capital again, this time for the Moravian city of Olomouc where he finally handed the rule over the empire to his nephew, Franz Josef. As Ferdinand recorded in his diary, "then I embraced him and kissed our new master, and then we went to our room. Afterward I and my dear wife heard Holy Mass ... After that I and my dear wife packed our bags".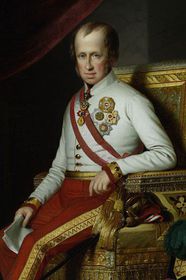 Ferdinand V People first thought he was on his way to Innsbruck but his train stopped in Prague. Curator Jaroslav Sojka explains why the former emperor chose to spend the rest of his days here.
"I have given this a lot of thought and I have to say that Prague was a big city at that time with the monumental Prague Castle so I think it was an ideal seat for a monarch. Innsbruck was much smaller while Košice and Bratislava were too close to Vienna. If he was meant to retreat from public life Prague was the ideal place. Another reason was that he had two estates in Bohemia – in Zákupy and Ploskovice – which he inherited from Napoleon's son, Napoleon II."
Once the burden of official state business was off Ferdinand's shoulders, he and his wife lived quietly in Prague, and spent their summers at their chateaus in Zákupy and Ploskovice.
"He devoted a lot of time to his own interests. As a boy, he was trained as a gardener, so he studied pomology which you can clearly see when you visit his estates in Zákupy and Ploskovice and walk through the alleys of old pear and apple treas.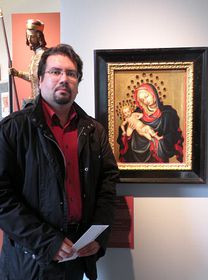 Jaroslav Sojka "He also supported arts and he collected paintings. He was interested in technology, he collected musical clocks and various mechanical toys, and he also spent a lot of time reading just like his wife. Both of them were also fond of music."
The exhibition also shows what Ferdinand's living quarters looked like, complete with Rococo furniture, paintings and objects of everyday use. One of these model rooms represents an office of the castle clerks, and another the Blue Salon used by Ferdinand's wife.
The second part of the exhibit is held at the Imperial Stables at Prague Castle, and features Ferdinand's art collection. Although the last crowed king of Bohemia did not have a very refined taste, Jaroslav Sojka says it offers a nice look at popular art of the time.
"In the Imperial Stables, you can see paintings, owned by the Emperor, by Vilém Kandler who was very close to Ferdinand, and by Josef Navrátil, another painter whose work is characteristic of the era, as well as statues by Emmanuel Max, and for instance a golden rose, a gift by the Pope Gregory XVI to Maria Anna in 1831 who was yet to become the Queen of Bohemia, but was already the Queen of Hungary and of course Ferdinand's wife."
One of the legends about Ferdinand and his mental health says that in the vast halls of Prague Castle, Ferdinand played with toy trains. But Jaroslav Sojka says this is very exaggerated although the former emperor did have an interest in trains.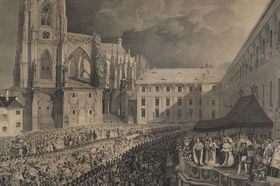 "Unlike his father, Ferdinand was interested in technology and supported railways; Austria's first railway company was named after him. He liked travelling by train and when he fled Vienna in 1848 and on other occasions, he travelled by steamboat on the Danube. His era is linked to the beginning of railways in the Czech lands. There is this myth that he liked to play with toy trains an adult. But that's a bit like saying that his successor, Franz Joseph, liked to play with weapons since he was a very small child."
As its last imperial inhabitants, Ferdinand and his wife did leave their trace at Prague Castle. The ceremonial rooms used by the Czech president have not changed significantly since Ferdinand's time.
"Ferdinand V used parts of Prague Castle created during an adaptation in the 18th century. Today, these areas are used for various ceremonies and people can visit them at least twice a year. They were built in the Baroque style but were later fitted with Rococo and neo-Baroque furnishings between the 1860s and 1880s.
"Another part of Prague Castle which bears significant traces of Ferdinand's taste – and that of his wife – is the Chapel of the Holly Cross in the Second Courtyard which they had remodelled and fitted."
Unlike in other parts of the former Austrian monarchy, Ferdinand V the Benign was quite popular in Bohemia even after he resigned. The exhibition includes a closed carriage the family outcast used on his trips around Prague, greeted by people from all walks of life. Another legend has it that Ferdinand would often stroll along the boulevard known today as Národní třída, handing out candy to children and pittance to beggars. But the curator of the exhibit, Jaroslav Sojka, says Ferdinand's popularity with the Czechs also had a political undertone.
"I would definitely say he was popular in Bohemia much more than he was in Austria and Germany where he remains in the shadow of more significant rulers such as for example Maria Theresia and his successor and nephew, Franz Josef I. In Prague, he earned the nickname Benign because he was the last crowned king of Bohemia, and also because he was known as a pious person whom the Czechs liked to greet ostentatiously in the street to show their dislike of the government in Vienna."
The exhibition about Ferdinand V and his times at Prague Castle runs until early September.