demanding, because we played four large pieces by contemporary composers, and so the attendance dropped to 90 percent. People organizing other festivals tell us that's a great result, but we're not fully satisfied with it. You know, we had to say good bye to the 20th century in a dignified way... For this year, we've chosen a more popular programme, one which will attract a broader audience for many years, such as Dvorak's Slavonic Dances and his Symphony From the New World, or Beethoven's Imperial piano concerto and his 7th symphony. But, I wouldn't describe Smetana's Litomysl as a commercial festival, we will continue to concentrate on classical music and a well-educated audience, but we also want to attract people with less experience of so called "serious" music...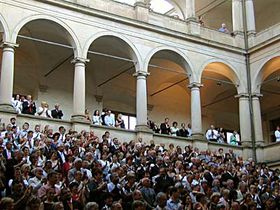 Smetana's Litomysl Opera Festival, photo: Archive of Radio Prague Litomysl is a picturesque little town in Eastern Bohemia, and in the Czech Republic widely regarded as the birthplace of Czech national composer Bedrich Smetana. From June 21st to July 1st, the town will host an opera festival called Smetana's Litomysl. But its organizers complain that last year's attendance dropped-off a little, and the artistic director, Vojtech Stritesky explained why:
This year, Smetana's Litomysl will feature less operas than in previous years. The main reason for this is lack of funds. But Mr. Stritesky told me a change was needed:
That was the artistic director of the Smetana's Litomysl music festival, which opens on June 21st. And if you're a classical music buff and open air concerts are your cup of tea, tickets go on sale on March 5th.