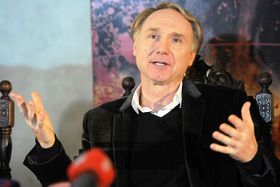 Dan Brown, photo: Filip Jandourek Dan Brown is the author of enormous international best-sellers including The Da Vinci Code, Angels and Demons and Inferno. On a three-day visit to Prague, the code-obsessed writer visited popular sights and got to see underground tunnels and other spots normally closed to the public. But, speaking at a news conference on Wednesday, Brown was cagey on whether they might feature in a future novel of his.
"We've seen monasteries and secret libraries, castles and synagogues and cemeteries. I've even made it down into your sewer system. I don't think there's much I haven't seen.
"This is a very inspirational city. You have a deep history of mysticism and there are certain views in the city that you look at – particularly off of Charles Bridge, up at the Castle – that almost don't seem real. You almost imagine that someone has painted the perfect fairytale city and there it is.
"As for what I'm writing next, as you know I like secrets. I never reveal what I'm writing about. But this visit has been very inspirational. That's all I'll say."
The thriller writer praised his Prague guides, saying they had given him food for thought with their descriptions of some of the city's most famous legends and literary figures.
"I've heard a lot of strange tales, from Kafka to the Golem, all sorts of mystical tales. They're exciting because they're inspirational, because they have an element of… truth and fairytale, and you're not sure where they interconnect.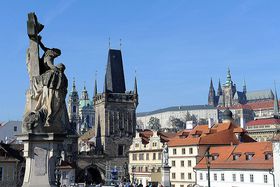 Prague, photo: Filip Jandourek "Part of my job as a writer is to extract from a story like the Golem the magic of the story and fuse it with the truth of the situation. That sounds like a pretty difficult task, so I'm still trying to balance all the fact and fiction and fantasy I've heard here in Prague."
While in Prague, Dan Brown received an award from his local publishers for a translation of The Da Vinci Code becoming the best-selling book in the Czech Republic in the last decade. He also appeared at a staged reading from his latest hit Inferno at the Nová Scéna theatre.