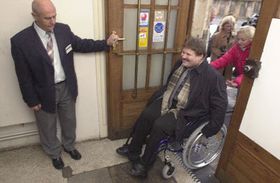 Zdenek Skromach, photo: CTK "The objective of this project was to present to the general public the problems that people on wheelchairs face everyday and to also show the barriers in society. Mr Skromach, the Minister of Labour and Social Affairs accepted the idea and experienced a difficult task of spending a regular day on a wheelchair."
Is there one specific problem that you think the Ministry of Labour and Social Affairs needs to deal with right now?
"Yes. The biggest problem is the absence of the law, including the problem of personal assistance in general to people with physical disabilities. These persons have to pay full price and there is no help from the state included in the law. "
And what are the everyday problems that they face?
"The main problems are the traditional ones like their financial situation, their professional problems, etc. The other never-ending problem is the disregard and hate of other people. Unfortunately, the general public still does not know how easy it is to get on a wheelchair, to become a person with a physical disability. Some sources say that there are thirty-three people on wheelchairs to every ten thousand inhabitants."
During his day on a wheelchair, Minister Skromach was accompanied by Czech actor Jan Kaspar who has been disabled for fifteen years. Mr Skromach soon came to realise that there was much work ahead for his ministry if the physically disabled were to lead comfortable lives in the country. In one day he had come across the lack of designated parking spaces and easy-access entrances, far too narrow elevators, and the problem of finding a comfortable wheelchair. The experience prompted Mr Skromach to immediately begin planning changes his ministry needed to push for. "Younger citizens can assistant people with disabilities, solving the problem of high unemployment" he said. Prosaz and Radiozurnal have now called on to the country's celebrities and hope they too will sacrifice one day in their lives to move around in wheelchairs.