I spoke to Cestmir Kalas, a former racer and now an organiser, who told me a bit about the race's history:
"As young riders then, we took part in the race but unfortunately it didn't last long. 1968 saw the borders closed, and although we had ties with fellow racers in Austria, we were only able to pick up on them in the late 1980s - just one year before the Velvet Revolution. Against great odds we were able to reintroduce the race, convincing officials in both Austria and here. It wasn't easy. I'm certain it was the only race in Europe where riders were able to freely cross the Iron Curtain. I still see it as an historic event."
In the 1990s, the race continued in a new spirit, with the Czech Republic emerging from the former Soviet bloc: now the race is in its 19th inception. This year Ceske Budejovice-Linz is featuring twenty-three teams, with more than 130 riders, competing over three days. The final one, the clincher, will include a pretty difficult climb: 14 percent in grade, some nine kilometres in length. Cestmir Kalas again: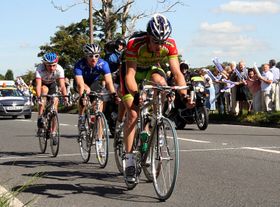 Illustrative photo: Jimmy Lemon, stock.XCHNG "The final hill is similar to stages in the Tour de France. It's very difficult and real pro riding. It's a brutal hill."
But, says the race's president Rudolf Lackner, the racers will be able to handle it, many of them at home at world-class events like the Giro d'Italia and the Tour de France. Still, he gives the Austrian teams a slight edge.
"I am a local patriot and I think that the Austrian teams with Ortner or Peter Pichler will be my favourites. But, only [Andreas] Ortner is a climber and I think he has a chance to win."
Among the Czech teams competing, PSK Whirlpool and Dukla Prague will be strong contenders, with racers like Rene Anderle and Petr Bencik or Milan Kadlec, who finished 5th on the track in the Athens Olympics. Riding tough circuits is part and parcel.
Jan Kadlec, team manager for Dukla Prague:
"For us it's a final race in the season considering stage races and we are preparing for the European Championship on the track which will be held in Copenhagen. It's much more in the hills than before, very hard for all riders, not only for mine! But, I hope that we will be able to ride well and that we can achieve some partial results in the first two stages. It will be very, very hard but I think in the first two stages we can get some good results."
The race will wrap up on Sunday at the alpine centre of Hinterstoder in upper Austria, 1500 metres above sea level, and organisers expect that there will be many fans on hand to cheer the riders on.