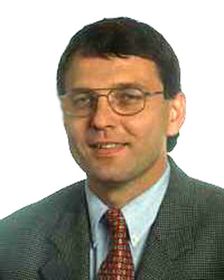 Lubomir Zaoralek "It isn't possible to leave Central Europe and we have to communicate with many of the other eastern European countries. We have to reflect the transformation process of post-Communist countries and find ways how to stabilise and how to help democracy and the modernisation of these states. It is a great task for our country and we need many resources to reach this difficult task."
With the fall of the Iron Curtain, Czechoslovakia's reorientation towards the West led to a severe cooling of ties with Russia, and that relationship dropped to freezing point in the run- up to joining NATO in 1999. With the election of Vladimir Putin as President of the Russian Federation, however, Czech-Russian relations begun to thaw rapidly. At the beginning of 2001, both the Russian Foreign Minister, Igor Ivanov, and the chairman of the upper house of the Russian parliament, Jegor Strojev, visited Prague. President Putin has also accepted an invitation from his Czech counterpart and is expected to visit the Czech capital in the near future.
"Our country has to start to react to the new situation, created by the strive for EU membership, to also make Russia part of the European secure architecture. What our country needs to do is to react to some of these new tasks. We are at the beginning of thinking about the East - not only Russia but also the Balkans and other territories which are very important when we strive to preserve security for the future."